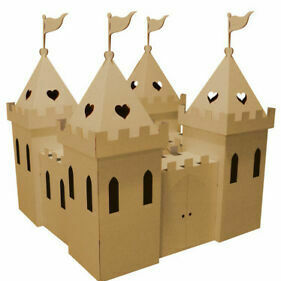 Kings & Queens of Cardboard
Our Goal --- $5000... and the BEST cardboard residence in all of downtown Champaign
Help Us Build our Cardboard Palace!
For every donation you make of $5 or more, you can request (in the donation message) that our team creates a new addition to our Cardboard Palace on the night of the event! (February 5th, 2021)

So that we don't run out of cardboard too quickly, we have the following donation levels:

$5 = 1 cardboard shoebox worth of material
$50 = one large cardboard UHAUL moving box of material
$100,000 = we will build you an actual house made out of cardboard

After completing your building request, we will post a picture of it on all of our social media outlets and send you an email with the picuture!
Our Supporters
Braden Bisping

Collected from Venmo donations! ($25 + processing fees)

February 2021

$25.00

Braden Bisping

Gathered from friends on Facebook! ($776 + processing fees) https://www.facebook.com/donate/134690305156304/4196387607042724

February 2021

$776.00

Anonymous

Winter is coming.

February 2021

Mindy Reeter

Go Braden!!!

February 2021

$25.00

Anonymous

I want to see a rocket that says GME on it.

February 2021

$800.00
Anonymous

I want to see a rocket that says GME on it.

February 2021

$800.00

Braden Bisping

Gathered from friends on Facebook! ($776 + processing fees) https://www.facebook.com/donate/134690305156304/4196387607042724

February 2021

$776.00

Noah Blunier

I want to see a functioning draw-bridge of some kind.

February 2021

$100.00

Anonymous

Add a unicorn to to your box!

January 2021

$50.00

Braden Bisping

Collected from Venmo donations! ($25 + processing fees)

February 2021

$25.00