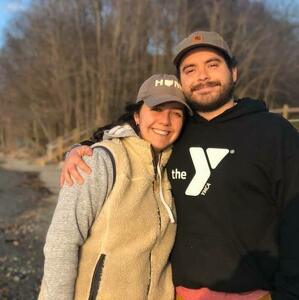 The Kuchel Dwellers are taking a dunk!
Joe and Hannah became a team the end of summer 2016 and their shared love and dedication toward Camp Fitch is one of the roots to their bond! With many of their best friendships starting at summer camp, Camp Fitch has been a place to reconnect and gather with the people they love. 
After many years of back a fourth, this team is now settled north of the tracks in Kuchel Cottage...just a short walk through the woods to the dining hall! 
As Joe prepares for the magic and business of summer we are reminded the power of the Camp Fitch experience. Thank you for helping someone experience the outdoor adventure, friendship and discovery that the Camp Fitch experience provides!
0
days
0
hours
0
mins
0
secs
Our Supporters
Four Square Foundation

May 2021

690.00$

Jack Mayberry

April 2021

50.00$

Fritz D

April 2021

50.00$

Mallory Allen

April 2021

103.00$

Grant Cohoe

April 2021
Community Design Alliance

April 2021

1,000.00$

Michael Dingeldein

March 2021

731.30$

Michael Neal

April 2021

710.00$

Four Square Foundation

May 2021

690.00$

Awesome Friends Who Venmoed Their Donation !

Casey Wert, Lanny Kilpatrick, Carin Marchetta, Isabel Dingeldein, Joanna Sokol, Madison Dempsey, Jordyn Nenadich, Bailey Purpura, Taryn Weiss, Sonya, Gaby DeAscentis, Eleanor Thorpe, Emma Dingeldein, Abby Parker, Hillary Allen, Sue Mirto, Justin Spooner, E

April 2021

370.80$