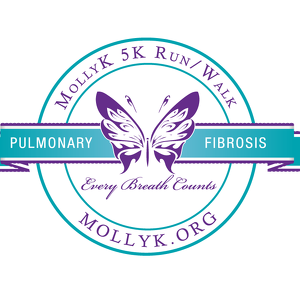 MollyK
Team MollyK Fundraising Page
Join Team MollyK at the PFF Walk!
This year, Team MollyK is proud to lead the way toward a world without pulmonary fibrosis (PF) as part of the PFF Walk. We hope you will join us as we raise funds to benefit the Pulmonary Fibrosis Foundation (PFF).
Team MollyK started the walks from 2012 in honor of Mradula Kalathia (MollyK) who passed away from Idiopathic Pulmonary Fibrosis (IPF) in 2006. In 2020, we lost two more family members (Molly's siblings) to IPF.  Please visit our page https://mollyk.org/ to learn more.
Pulmonary fibrosis is a deadly and complex disease that causes progressive scarring in the lungs. PF affects over 250,000 Americans annually.
While there is still significant work to be done, progress in the fight against pulmonary fibrosis is being made. Your generosity allows the PFF to expand essential efforts for the PF community.
For more information on how your gift will make a difference in the lives of PF patients and their families, please visit www.pulmonaryfibrosis.org.
Thank you in advance for your generous support.
Neil Shah

Roshni Shah

Abhi Shah

Mehul Patel

Akshar Patel

Jiya Patel

Rohan Parekh

Nilesh Parekh

Nitika Parekh

Vipul Mangal

Layton Mangal

Cameron Mangal

sadie Mangal

Brinda Jasani

Ziya Jasani

Aarna Jasani

Kanan Kalathia

Vipul Kalathia

Aman Kalathia

Aashna Shah

Vikas Ohri

Kareena Ohri

Varsha Bhatt

Navnit Jasani

Anay Jasani

Aarav Jasani

Viruben Jasani

Mohan Jasani
Our Supporters
CVS Health Foundation

4 weeks ago

Bhavana Laad

Hope to find a cure for PFF

Last month

Microsoft

Shikha Patel volunteer efforts

December 2022

Samir Rahman

November 2022

Johnson & Johnson

Matching donation for Rajiv Shah

October 2022
Nita Zalavadia

September 2022

$1,750.00

Brick Street Capital LLC

September 2022

$1,001.00

Manisha Shah

September 2022

$1,000.00

Anonymous

September 2022

$1,000.00

Haresh Umaretiya

Appreciate for the everyone for their effort towards finding the cure for this disease

October 2022

$513.75