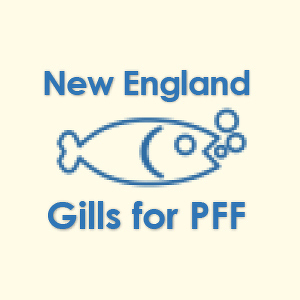 New England Gills for PFF
We be the NE Gills for PFF!
We be "Together Toward a Cure"
Walk with us; Donate to us; Sponsor us!
Join us as we WALK for PFF!*
Great Island Common | New Castle, NH | Septeber 24th, 10am
This year, our team, the New England Gills for PFF, is proud to help lead the way toward a world without pulmonary fibrosis (PF) as part of the PFF National Walk Day on September 24th. We will be stepping live together toward a cure in New Castle, NH, and we hope you will join us as we raise funds to benefit the Pulmonary Fibrosis Foundation (PFF). If you would like to join New England Gills for PFF and walk with us,, please click the "join our team button," select "National Walk Day" as your walk site, and "virtual walker" as your type, then proceed with your registration. 
Pulmonary fibrosis is a deadly and complex disease that causes progressive scarring in the lungs and currently has no known cure. PF affects over 250,000 Americans with 50,000 new cases and 40,000 deaths reported annually. Thus giving cause to the mission of the Pulmonary Fibrosis Foundation, that is to accelerate the development of new treatments and ultimately a cure for pulmonary fibrosis. Until this goal is achieved, PFF is committed to advancing improved care of patients with PF and providing unequaled support and education resources for patients, caregivers, family members, and health care providers. While there is still significant work to be done, progress in the fight against pulmonary fibrosis is being made. Your generosity by walking and raising funds or by donating to one of our walkers or by being a sponsor of New England Gills for PFF, allows the PFF to expand essential efforts for the PF community.
For more information on how your gift will make a difference in the lives of patients with pulmonary fibrosis, and their families, please visit www.pulmonaryfibrosis.org. And if you have any questions, feel free to contact Gills for PFF' Captain John Massaua by email at jrmassaua@gmail.com or give him a call at 207-465-6942 or contact PFF Vice-Chair and Treasurer Laurie Chandler at lchandler@lchandler.us or cll Laurie at 603--770-1123.
Thank you in advance for your generous support.
Laurie Chandler, PFF Vice-Chair & Treasurer                     John Massaua, N.E. Gills for PFF Team Captain
* We be part of PFF's Virtual Walk, but we be doing actual walking!
Our Supporters
Betsy P Burke

2 weeks ago

Mary McAleney

For Rosco in honor of Otis, the cookie snatcher

Last month

$150.00

HFC Membership SVdP

in honor of John Massaua

Last month

$500.00

Jim and Faye Nicholson

Last month

Andy Kaplan

Last month
Anonymous

September 2022

$5,200.00

Scott Upham

September 2022

$1,000.00

Julie Upham

September 2022

$513.75

Julie Upham

September 2022

$513.75

Dr. Megan Koster w/ 2 children

September 2022

$513.75