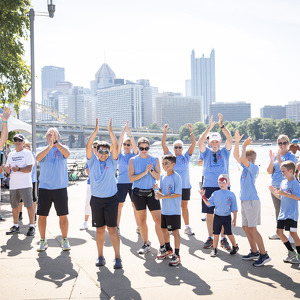 PFF Walk - Pittsburgh
Supporters
Anonymous

2 minutes ago

Eleanor Valenzi

2 days ago

$256.87

Mary Jo Palmer

2 days ago

$25.69

Michelle Meyers

2 days ago

Michelle Baynham

2 days ago

$51.37

Melinda Geiger

3 days ago

Daniel Kass

In honor of the staff of the Simmons Center for Interstitial Lung Disease

4 days ago

$256.87

Donna McCubbin-Moats

4 days ago

$25.00

Devon Roth

4 days ago

$25.69

MELANIE FRIEDRICH

4 days ago

$25.69

Mindy Friedrich

4 days ago

$51.37

Patricia Friedrich

4 days ago

$102.75

Carol Barletta

4 days ago

$25.69

Tracy Holliday

In honor of Missy and in memory of Tom, with love.

4 days ago

$102.75

Ed Whetstone

in honor of Missy Johns

5 days ago

$102.75
Eleanor Valenzi

2 days ago

$256.87

Daniel Kass

In honor of the staff of the Simmons Center for Interstitial Lung Disease

4 days ago

$256.87

Denny Prindle

Violet Rippy

April 2023

$256.87

John P. Beal III

April 2023

$256.87

Patricia Friedrich

4 days ago

$102.75

Tracy Holliday

In honor of Missy and in memory of Tom, with love.

4 days ago

$102.75

Ed Whetstone

in honor of Missy Johns

5 days ago

$102.75

Heidi Kunst

Last month

$102.75

Tami Rippy

March 2023

$102.75

Cathy Piccolo

4 weeks ago

$100.00

Facebook Donor

4 weeks ago

$100.00

Su Hwang

Last month

$100.00

Gretchen Cararie

Last month

$100.00

Dyana Sweigart

April 2023

$100.00

Jill Stewart

in honor of Tami Rippy and the Rippy family!

April 2023

$100.00
PFF Walk - Pittsburgh Highlights
PFF Walk - Pittsburgh
Saturday, July 29, 2023
North Shore Riverfront Park

Event Schedule:
9:00 a.m. – Check-in begins
10:00 a.m. – Opening ceremony and step-off
11:00 a.m. – Celebration party
The PFF Walk is dedicated to raising funds and awareness for pulmonary fibrosis (PF) care, support, and research. Join us as we walk together toward a cure!
Held at North Shore Riverfront Park, PFF Walk - Pittsburgh offers two course options – 1-mile or 5K – along a gorgeous waterfront pathway with spectacular views of the Downtown skyline. After the Walk, we invite you to stay for a celebration with family-friendly activities and light refreshments.
Register for yourself or start a team today! Registration is free.
  Contact us!
For more information or fundraising resources, please contact us by
emailing PFFWalk@pulmonaryfibrosis.org or calling us at 855.WalkPFF (855.925.5733).