Hear from our Walk Chair, Kelly Considine
Photos from RSDSA's First Virtual CRPS Awareness Walk
Purchase a Walk Shirt!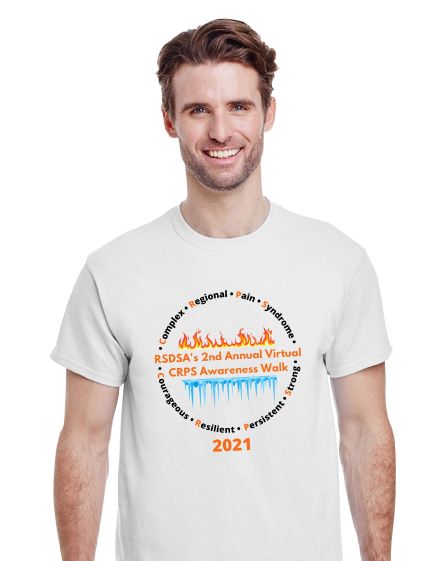 2nd Annual Walk Shirts (Front)
2nd Annual Walk Shirts (Back)
RSDSA's 2nd Annual Virtual CRPS Awareness Walk
My name is Kelly Considine, I am a CRPS Warrior as well as the Chair of RSDSA's 2nd Annual Virtual CRPS Awareness Walk.
I am very excited to announce we are hosting our 2nd Annual Virtual CRPS Awareness Walk on Saturday, June 26th, 2021!
You can help us achieve our 2021 goal by:
Clicking the orange "Donate Now" button and make a gift 

to a team, a person, or the event.

Registering as an individual walker or create a team by clicking the "Register" button

.

$21.00 for adults

$10.00 for children (13 and under)
Event registration includes a finisher medal for U.S. / Canadian households only
Check the tab on our toolbar to see the new Fundraising Incentive Program for those who fund raise $100 or more
Help us spread the word about our virtual walk by sharing this fundraising page or your personal fundraising page on social media
Every dollar counts. Watch the video in the top left-hand corner to learn more about fundraising for the 2nd Annual Virtual CRPS Awareness Walk.
More than ever, those living with CRPS need our support.When you join or donate to the CRPS Awareness Walk the funds you raise support
Community
Our Facebook Lives and Conferences unite CRPS Warriors and clinicians to hear about the latest treatment options.
Advocacy
We help our community advocate for healthcare and treatments. 
Research
We raise funds for research to find better treatments and a cure.
Education
We provide webinars and conferences to learn about the latest treatment options. We have credited medical online course for doctors and nurses to learn more about CRPS.
Support
Through our online community, mentoring support groups and activities we offer comfort and support to individuals and families. We support children by offering scholarships to Courageous Kids Camp each summer. 
For questions and more information, contact Jeri Krassner at jkrassner@rsds.org / 917-597-7256 and/or Kelly Considine at kelly.crpsawareness@gmail.com.
Learn more about RSDSA at rsds.org.
How To Be A Part Of A Virtual Event
Walk or run in your neighborhood or at home
Complete your intended distance and proudly wear orange or the walk t-shirt, like last year's participants, to represent CRPS awareness! Please follow your local social distancing ordinances to stay safe. If you can't walk just send us a photo of yourself.
Share your why with us
In the weeks leading up to our virtual Walk, RSDSA will invite you to post WHY you are participating on your preferred social network. Are you participating in honor or memory of someone? Are you running or walking to encourage others? Let the world know!
Join the RSDSA community!
We encourage you to Like the RSDSA Facebook Page in order for all participants and supporters to stay connected and enjoy the virtual experience together!
Please help us spread the word to your friends, family, neighbors, and coworkers. Encourage them to donate to our cause. All proceeds raised from the walk will benefit our research and CRPS programs.