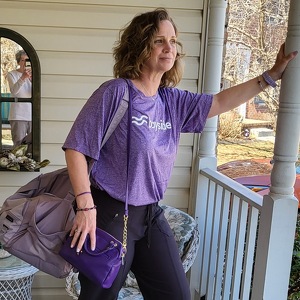 Bayside's Work Family & Linda's Village
2023 is the 20 year mark for my survival of a domestic violence experience.
20 years, how huge is that?!!! 
$5840.00 is always my fundraising goal amount since that is the number of days d.v. impacted my life.  
Today, I can honestly say I am: happy, healthy, humble, worthy and grateful. I can also share that it was a LONG journey to recovery & understanding.  My family and friends have been ever faithful and supportive all of these years and to them I owe my life, literally. 
Bayside,CBS & SARC, collectively, have been my path to independence. Both have professionally & personally supported me since relocating to Maryland; I have truly been fortunate.
This year, I had the honor of helping 3 domestic violence victims who didn't even know my story.  All 3, I directed immediatley to SARC who then recieved help in their needed areas on their own journey to safety and recovery. There is an exceptional amount of guilt and shame when you are in a domestic violence situation, but shame dies when stories are told in safe places.  SARC is that safe place!
20 freakin years I would like to think that d.v. is so far in my past that it's a vivid memory or a harsh learning lesson in my life; neither are true.  The reality is, it changed the entire trajectory of my life.  It changed the core of who I am.  I would like it to disappear, vaccumed into a black hole where it crumbles and disappears forever but instead it tags along. Some days more bright than others but it's always there.  I am still a work in progress because of those 5840 days, however, today, I accept only the positive energy from that experience by honoring my village and tribe, by helping someone else so they can seek help comfortably, and wearing that survival like a badge of honor.  
Bayside's Work Family & Linda's Village = One GREAT TRIBE
Our Supporters
Alexis Moyer

Last month

$50.00

Alyson Amendola

Love to you, Linda. You will always have my support and friendship.

Last month

$51.50

Sandra Betz

Last month

$25.00

BAYSIDE CBS

Fernando & Bernice donations

Last month

$51.50

Anonymous

from First Financial Federal Credit Union

Last month

$25.75
Bayside

March 2023

$1,000.00

First Financial Federal Credit Union

In honor and support of Linda and the work of SARC.

March 2023

$515.00

Clear Voice Matters, LLC

Paying it forward!

Last month

$272.69

BAYSIDE CBS

Donations from employees at Bayside CBS

March 2023

$250.00

Anonymous

March 2023

$250.00
Let's all wear SLIPPERS instead!