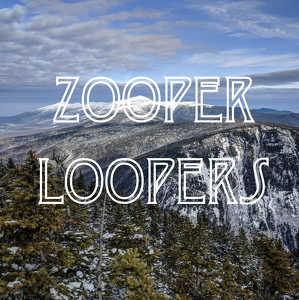 Zooper Loopers
July 18, 2020 - September 30, 2020
Zooper Loopers' Team Fundraising Page
Our Mission
On July 18-19, 2020 our team will be climbing a 4000-footer in New Hampshire as a participant in 20th anniversary of the nation's premier hiking event Seek the Peak, in support of the legendary non-profit Mount Washington Observatory. Please consider making a tax-deductible contribution to support our hike!
We plan to hike a nearby 4000-footer peak (or two) with stellar views of Mt Washington, rather than Mt Washington itself (though we have hiked it before!)
Since 1932, the nonprofit Mount Washington Observatory has been observing and reporting on Mount Washington's infamous conditions from their mountaintop weather station, maintaining one of North America's longest continuous climate records. The data they collect is utilized in forecasting models, weather reports, landmark climate research and a variety of educational outreach. Through research and education, the Observatory is working to inspire the next generation of scientists.
Please join me in supporting this legendary institution by making a donation towards my hike. All gifts are fully tax-deductible, and will help Mount Washington Observatory continue their important work in the Home of the World's Worst Weather.
To learn more about Mount Washington Observatory, please visit MountWashington.org. For more on Seek the Peak, the nation's premier hiking event, visit www.seekthepeak.org.
Thank you for supporting the MWOBS and Team Zooper Loopers! 
0
days
0
hours
0
mins
0
secs
Our Supporters
Bayer

March 2020

$25.00

Margaret Hansen-Jain

March 2020

Bayer

March 2020

$25.00

Anonymous

March 2020

Julie Balerna

March 2020

$25.00
Bayer

March 2020

$25.00

Bayer

March 2020

$25.00

Julie Balerna

March 2020

$25.00

Zane Hansen

March 2020

$20.00