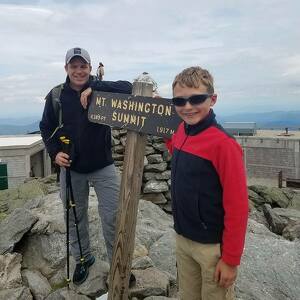 Rock Hoppers
Our Team Fundraising Page
In July of 2021 my son, Cayden; and I will be climbing 6,288-foot Mount Washington, N.H. as a participant in the 21st annual Seek the Peak, and in support of the legendary non-profit Mount Washington Observatory. When I was a kid, my father introduced me to Mount Washington and The MWOBS, ever since it has held a special place in my heart. My son and I now return yearly to enjoy the trails of Mount Washington, kayking in the Saco, and visiting the MWOBS. After a devastating year of lockdowns, uncertainty and in honor of my father we will be climbing the home of the worlds worst weather and to support a place we both love. This will be my sons first time participating in Seek the Peak and his first time climbing to the summit of Mount Washington. 
Due to the generosity of supporters the nonprofit Mount Washington Observatory has been observing and reporting on Mount Washington's infamous conditions for nearly 90 years from their mountaintop weather station, maintaining one of North America's longest continuous climate records. The data they collect is utilized in forecasting models, weather reports, landmark climate research and a variety of educational outreach. 
Please join me in supporting this legendary institution by making a donation towards my outdoor adventure. All gifts are fully tax-deductible, and will help Mount Washington Observatory continue their important work in the Home of the World's Worst Weather.
Your support will To learn more about Mount Washington Observatory, please visit MountWashington.org. For more on Seek the Peak, the nation's premier hiking event, visit www.seekthepeak.org.
Thank you for your support!
Our Supporters
John Rocharz

Go get em' bud! Hope you and your son have a great time up there!

April 2021

$50.00

Dawn Freeman-McDonough

March 2021

$20.00

Jeremy Apperley

March 2021

$15.00

Kim Hill

Good luck boys!

March 2021

$62.88
Kim Hill

Good luck boys!

March 2021

$62.88

John Rocharz

Go get em' bud! Hope you and your son have a great time up there!

April 2021

$50.00

Dawn Freeman-McDonough

March 2021

$20.00

Jeremy Apperley

March 2021

$15.00