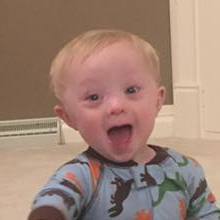 Our Team Fundraising Page
Leg Up For Liam!
Join Us!
Liam is now two!!  We can't believe time is flying by that quickly!  He's into EVERYTHING!  He's been walking since 19 months, learning to sign, is finally sleeping through the night, loves spaghetti, baths, going for walks, playing outside, and is a bit wary of slides yet.  
DSAW has been an invaluable source of information, comradery, love, acceptance, and home to some really fabulous people.  We are so happy to be involved in this walk to raise money to support people with Down syndrome and their families to be the best that we can all be.  Without this group, we wouldn't have had the positive outlook and frames of mind that we did when Liam joined our family, making us complete.  Donating to our team will help thousands in this way: speakers and workshops, grants for those with DS, information for new families, programs to bring families that have members with DS closer together, scholarships for educational opportunities for those with DS, summer speech programs, purchasing resources for all families to share/use, and the list goes on.   
We are very honored to help represent this organization because of all the love, support, and hope they spread.  We appreciate YOUR support from the very deep, soulful, grateful, and warm bottom of our hearts.  
We would LOVE it if you would join us and walk with our team, make a donation in Liam's name, or both!
Love and hugs,
Courtney, Bob, Rowen, Ethan, and Liam
Legs Up! Let's Get Walking!!!
Cathy Paynter

Lorene Willems

Dusty Birling

Olivia Birling

Avery Birling

Bob Velpel

Rowen Velpel

Ethan Velpel

Liam Velpel

Ginny Thompson

David Thompson

Kim Olski

Riley Olski

Karlee Olski

Mary Lietz

Chad Thompson

Debbie Velpel

Emily Luedtke

Troy Beck

Taylor Beck

Jason Marx

Austin Beck

Aurora Marx

Brendan Beck

Delaney Marx
0
days
0
hours
0
mins
0
secs
Our Supporters
Jacqueline Douglas

Love you all! Kisses to Liam!

October 2017

jennifer hansen

Go Team Liam!

October 2017

Justin Charles

October 2017

$52.50

Katherine Roth

September 2017

$21.00

Terry Brei

So Proud Of You Liam:)

September 2017

$200.00
JJ Keller Foundation Match

September 2017

$1,000.00

Friends and Family of Liam

Friends and Family of Liam

September 2017

$1,000.00

Terry Brei

So Proud Of You Liam:)

September 2017

$200.00

Mark Pribbenow

Good Luck, Liam and Family. Wish we could walk with you! Mark & Mary Pribbenow

August 2017

$105.00

Brad Markvart

Yay Liam!!

September 2017

$100.00