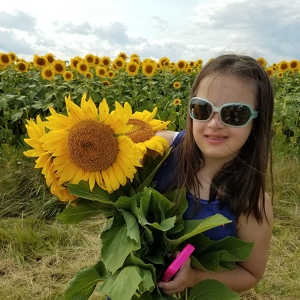 Dear Family and Friends,
Thank you so much for your continued support of TEAM JULIA over these last 12 years. We have benefited from your support long before there was an awareness walk or a DSAW-FC.  We can't thank you enough!
We are so thankful for such a strong and supportive network in the Fox Cities.  DSAW-Fox Cities provides everything from support to our families, fun activities for the entire family & individuals, speakers, IEP help at school, lifting each other up, parent support, grants/scholarships, speech/OT therapy and so much more!
Our annual Down syndrome awareness walk is our one and only fundraiser throughout the year.  All of the money that is raised helps people with Down syndrome in the Fox Valley.  Every dollar raised benefits our local families.
We appreciate in advance your support and we hope you can come walk with us on Saturday, October 7th!
Lots of Love,
Jim, Danielle, Helena & Julia...Hazel too
Michelle Laursen

Dan Laursen

Brianna Laursen

Julia Marks

Helena Marks

Joe Deschane

Jim Marks

Kingston Eisch

Travis Eisch

Tammy Collar

Clare Rettler

Ethan Rettler

Dylan Carlyle

Chad Rettler

Michele Rusch

Trebor Rusch

Lexi Rusch
0
days
0
hours
0
mins
0
secs
Our Supporters
Carol Hassemer

Go Team Julia!

October 2017

$26.25

John Marks

October 2017

$50.00

Diane and Dan Hinderaker

Way to go TEAM JULIA!!!! Hope the walk day is great! So proud to be in your life. We love you all and will be cheering for TEAM JULIA on Sat. Love, Dan, Diane, Ryan, David and Noah

October 2017

$35.00

Ronald Marks

Go Team Julia. See you on Saturday. Love, Ron & Betty

October 2017

David Lewis

October 2017

$52.50
Jack Deppisch

September 2017

$262.50

Sally and Gary Drenoske

GO Team Julia! Wish we could be there!!

October 2017

$210.00

David Lewis

October 2017

$52.50

Dennis and Peggy Crull

We luv you Julia :)

October 2017

$52.50

Anonymous

September 2017