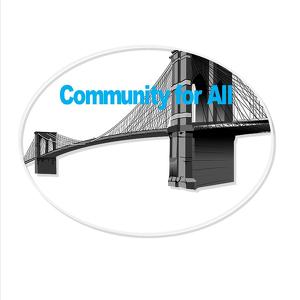 Community for All Walkers
September 17, 2017
BCS-Community for All- Walkers
Your Donation will be a much needed contribution to the people we support!!!!
Community for All Day Hab. Program
On Sunday September 17, 2017 BCS will host ONE BK-UNITE annual walk which will bring together hundreds of Brooklynites from all neighborhoods for this annual event benefiting the work of BCS. Our team COMMUNITY FOR ALL Walkers is raising money for the Day Habilitation program for Individuals with intellectual disability. Help us continue to highlight and embrace all the abilities and dreams of those who we serve. Thank you in advance for your contribution in support to us. Thank you if you've donated in the past -- and thanks to all of you for thinking about our future.  
BCS is one of Brooklyn's oldest and largest providers of social services.  We trace our history back to 1866, when our founders came together to help injured veterans and homeless children whose fathers had been killed in the Civil War.  In the late 19th century and early 20th century, BCS focused on infant mortality and fought influenza, tuberculosis, and polio epidemics, and organized to improve conditions in tenement housing and to improve the lives of people living with disabilities. We were an early pioneer in the prevention of foster care and in community-based mental health services.
Your donation will enable us to better serve Brooklyn Communities.  Programs at the federal level are changing rapidly; please donate today to make a difference in the lives of many who need your support.  Your donation will have a positive impact in a time when positivity is needed most.
0
days
0
hours
0
mins
0
secs
Our Supporters
Exclusive Ambulette Service Inc.

Congratulations, La'Kisha Brooks and the whole BCS Team!!! Keep up the great work!! From your friends at Exclusive Ambulette

September 2017

$250.00

Shandal Cordewell

BCS walk

September 2017

$25.00

Arelis Garcia

September 2017

$20.00

Maria Aguirre-Reyes

September 2017

$20.00

Melissa Seme

September 2017

$10.00
Exclusive Ambulette Service Inc.

Congratulations, La'Kisha Brooks and the whole BCS Team!!! Keep up the great work!! From your friends at Exclusive Ambulette

September 2017

$250.00

Kendra Harewood

September 2017

$147.00

Beau Shek

September 2017

$125.00

Kavi Destefano

September 2017

$100.00

Artshack Brooklyn

September 2017

$100.00