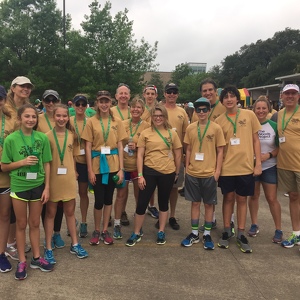 Join our Walk Team and Change a Life!
The past two summers Vean and I have spent two weeks leading a group of underserved Houston high school students on The Wood's Project summer trips to Wyoming and Montana.  We studied geology, dug for dinosaur bones, backpacked many miles, watched kids play in snow for the first time, waded through crystal rivers, built campfires, camped in bear country and saw the wonders of Yellowstone and Glacier National Parks.  Getting to know these young adults as they dealt with homesickness, perseverance through pain, learning new skills and encouraging their teammates to make it up the mountain was not only exhilarating but inspiring.  The Wood's Project summer trips and program change these kids lives and outlooks - they go home realizing they pushed themselves up and over mountains they thought impossible, learned new ways of coping with tough challenges, forged new relationships through laughter and pain and experienced wonders they never dreamed existed.  
Please join Peak Pursuits as we Walk for The Woods Project and help change lives!! 
Adam Forman

Isabella Smetana

Vean Gregg

Carly Gregg
Our Supporters
Abbe Forman

February 2018

Erin Stus

February 2018

Becky Hobson

February 2018

$312.00

farrell saunders

February 2018

$176.80

Christina and Jorge Cantu

February 2018
Becky Hobson

February 2018

$312.00

farrell saunders

February 2018

$176.80