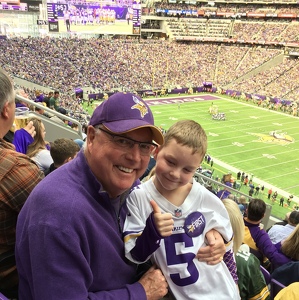 Drew's Grandpa's Team
Our team fundraising page
Thanks so much for visiting!
Please help us with a donation or just come to USBANK STADIUM for an AMAZING time.
I am sponsoring "Drew's Grampa's Team" to help ensure that others continue to receive the love and care that we received from the Amazing people at Children's Hospital.
Drew's Story
Drew Michael Halsne was born on November 15, 2009. 9 weeks early, weighing 3 pounds he was immediately rushed to Children's Hospital. We were all very worried and concerned about his viability. The fear turned to hope when we visited Drew in the NICU and met the band of angels keeping our tiny warrior alive, thriving and growing. With banks of monitors blinking and beeping, teams of doctors and nurses lovingly used the most sophisticated equipment to minister to our Drew. They also ministered to us with patience and kindness. Their skill, expertise and confidence was amazing and so reassuring. They convinced us that our tiny, blue, baby boy would be just fine. After 5 weeks, my daughter and son-in-law took Drew home. Children's had provided the instruction to help them continue to nurture their Drew. They worked very hard. 
Now, Drew is 8 years old. He brings so much love and joy to us, all. We can't imagine life without him. It is my honor to sponsor a team in the "Walk for Amazing" to give thanks, in a small way, for the miracle Children's Hospital's angels brought to our family. Drew is a very special gift from the very special people at Children's. They deserve my thanks and hopefully yours as well.
Our Supporters
Anonymous

June 2018

Nikki Thompson

We love Children's, and owe them so much. We are more than happy to donate!

June 2018

$15.00

Meredith Halsne

May 2018

$100.00

Matt & Andrea Simpson

May 2018

$100.00

James Klein

Good luck Mike and thanks for doing this. Children's is a great hospital!

May 2018

$100.00
Meredith Halsne

May 2018

$100.00

Matt & Andrea Simpson

May 2018

$100.00

James Klein

Good luck Mike and thanks for doing this. Children's is a great hospital!

May 2018

$100.00

Alli & Brendan Hawes

Go Drew's Grandpa's team!

May 2018

$100.00

Dick Dunn

Delighted to help you support Children's !!

May 2018

$100.00