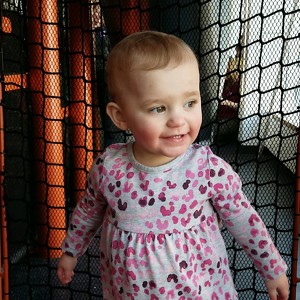 Chloe Jean and the Heartbeats
Our team fundraising page
Our daughter, Chloe, was born in August of 2016 with a congenital heart defect, Transposition of the Great Arteries. We were at Minneapolis Children's Hospital for her first couple weeks and at 3 days old Chloe had open heart surgery. I'm happy to say Chloe is now a happy toddler with a repaired heart! She continues to have her cardiology checkups at Children's and will continue cardiac care for the rest of her life.
Since then, Chloe has added a few doctors - ENT, Sleep Medicine and Respiratory. They are working together to determine why Chloe is constantly sick and how to get her healthier.
Our experience with Children's has been absolutely wonderful, even in the most stressful of times. We would love for you to help us support Children's and all that they do!
Kara Hofschild

Derek Ritter

Brian Hofschild

Susan Hofschild

Hannah Cowan

Chloe Wissink

Kassi Hofschild

Brody Wissink

Michael Wissink
Our Supporters
Brooke Jensen

June 2018

$50.00

Joseph Heiland

June 2018

$50.00

Rachel Mattson

June 2018

$200.00

Erik Sheridan

June 2018

$100.00

Corey Cox

June 2018

$50.00
Anonymous

May 2018

$1,000.00

Anonymous

April 2018

$500.00

Craft Sale Proceeds

May 2018

$335.00

Jason Rogowski

May 2018

$250.00

Rachel Mattson

June 2018

$200.00