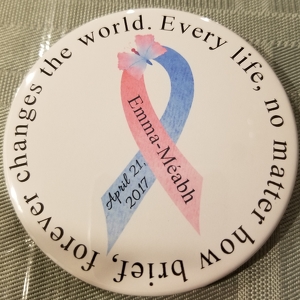 Team Emma-Méabh
May 5, 2018
Our Team Fundraising Page
Team Emma-Méabh has been created by the friends and family of Emma-Méabh Elizabeth.
Emma-Méabh passed away at 29 weeks April 19th, 2017. Mommy, Daddy, and big brother miss her very much and will love her always. 
What happened to our family is called a stillbirth - and unfortunately, it is much more common than most people realize. Stillbirth (defined as the death of a baby in utero after 20 weeks gestation) claims the lives of 26,000 babies every year in the United States - that's 1 in 160 pregnancies, the equivalent of a school bus full of children dying every single day, and 10 times the number of babies that die of SIDS.
Since Emma-Méabh's passing, we have found the organization Star Legacy Foundation.  It is a non-profit organization in the US dedicated to stillbirth research, education, advocacy, and prevention.
We and 40+ other members of the New York MetroChapter along with many family and friends, will take part in the 5k/walk May 5th.  
Please join us as we remember all the children lost too soon and help us to honor their memory.  
0
days
0
hours
0
mins
0
secs
Our Supporters
Boston Concessions Group of NY

May 2018

$100.00

Alanna & John Bender

In memory of angel EmmaMeabh.

May 2018

$50.00

Monica Varona

May 2018

$21.20

Mary Curran

May 2018

$42.40

Christopher Toy

May 2018
Boston Concessions Group of NY

May 2018

$100.00

Tucker and Liz Murphy

Sending love to the whole family!

April 2018

$53.00

Wendy Rossberg

Your courage and strength will always carry you through. Sending thoughts to you all. ❤️

April 2018

$53.00

Laura Sabatino

April 2018

$53.00

Anonymous

❤️

April 2018