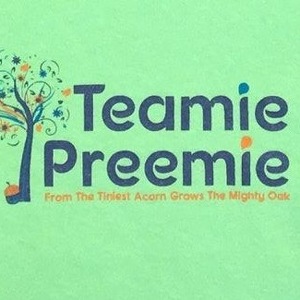 Teamie Preemie
Teamie Preemie is comprised of a small group of families in the Twin Cities who all ended up at the Minneapolis Children's Hospital approximately 2 years ago.  We formed a bond while our premature babies were hospitalized in the neonatal intensive care unit (NICU), and continued contact after our babies were discharged from the hospital.  It was a time of chronic trauma as we watched our babies fight so hard to survive.
Premature babies are known to have many more health problems.  The earlier a baby is born, the more likely he/she is to have health problems.  However, whether a baby is born at 24 weeks or 36 weeks, the NICU is a scary reality.  Our babies endured so many challenges within the NICU, even with basic human functions, like breathing, eating, stooling, and maintaining an adequate body temperature.  They had cords, wires, tubes and monitors hooked up to them at all times and they would set off alarms when they would stop breathing, heart rates would drop, or when their organs would be challenged.  They were poked and prodded, they were fed through tubes, they had blood transfusions, they had brain bleeds, and they had surgeries before they were even supposed to be born.
Not all of our babies survived.  We have two angel babies amongst our group. They fought hard, but were not able to overcome their challenges.
Our surviving babies were hospitalized anywhere between 40 and 189 days before they were well enough to come home for the first time.  Some came home with special equipment/monitors, medicines, and/or treatments.  Once home, we soon realized the struggles were not over and many of them require frequent visits to Children's Hospital or Children's Specialty Care Clinics for continued care today.  Babies who survive premature birth often have development delays and long-term health problems, including intellectual disabilities, chronic lung disease, asthma, blindness and hearing loss.  They have a lot of appointments with specialists and therapists.  They have more surgeries.  Some have feeding tubes as they are not able to eat.  They face frightening and complex diagnoses like autism and cerebral palsy.  The day-to-day struggle can be tough, financial expenses are high, but we love these fighters more than we can express.  We are so proud of them!
Teamie Preemie is gearing up for the second year to fundraise for Minnesota's Children's Hospitals.  We will walk at their 'Walk for Amazing' event on Saturday, June 9th at U.S. Bank Stadium.  All of the funds raised by our team will go towards supporting the Neonatal Intensive Care Unit (NICU) at Minnesota's Children's Hospitals, which is near and dear to our hearts as we know first-hand what they do for our local communities' children and families.  The people, the level of care, the programs in place, the resources they provide, the constant evolution and desire to improve and be the best, is definitely felt and appreciated from our perspectives.  We wouldn't be where we are today without Children's Hospitals (and their Specialty Care Clinics).
We thank you for reading about our team.  If you are able to support our team and the cause, please select 'Donate now' to submit an online donation. We really appreciate your support!  All donations are tax-deductible and Children's is a nonprofit 501(c)(3) organization.
Sincerely,
Teamie Preemie
Gemma Pringle

Nathan Cregeur

Anna Rose Cregeur

James Sanford

Gracelynn Groll

Harper Sanford

Renee Seal

Sara Seal

Eric Becigneul

Michael Seal

Dylan Becigneul
Our Supporters
Boston Scientific -Match donation

June 2018

$50.00

Northern Tool and Equipment

June 2018

$500.00

aaron lindberg

Keep up the awesome work!!

June 2018

Melissa Anderson

June 2018

$50.00

Megan Pringle

June 2018

$250.00
Northern Tool and Equipment

June 2018

$500.00

Anchor Distributing, Inc.

May 2018

$350.00

Megan Pringle

June 2018

$250.00

Anonymous

With love and prayers to all Teamie Preemie members!

June 2018

$250.00

Suzanne Becigneul

May 2018

$250.00