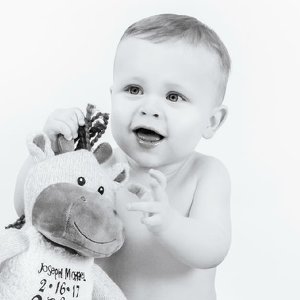 Team Joey
Our team fundraising page
Little Miracle
Isn't it crazy how one day can completely change your life? 
Feb.16th 2017, was that day for Mike and I. We welcomed our son Joseph Michael at 2:14pm, weighing 2 lbs. 8 oz. and 14in long. Which is nuts because Joey wasn't supposed to be born until the middle of May. Coming 13 weeks early, we had no idea what was in store for this little boy. 
Joey spent 6 weeks in the NICU and 7 weeks in the ICC, which quickly became our new "normal" our home away from home. We were fortunate enough to visit Joey every day that he was there. Words can't even begin to describe how thankful we are for this place. Going through the hardest days of your life isn't something you want to do alone and when you were there, you never felt alone. You always had someone to talk to and reassure you everything was going to be alright.  EVERYONE in the NICU was always so friendly and helpful. Having a primary nurse was the greatest. They truly cared about your baby and making sure you knew everything that was going on. Leaving at night was always hard for me but knowing Joey was in the best place on earth was reassuring. Also nicview (webcam in your baby's room) was amazing!! I can't tell you how many hours we sat and starred at our phones.
It has been almost 11 months since Joey came home from the hospital. It still doesn't seem real. We will never forgot our 90 days at Children's. For they were the longest, most challenging and rewarding days of our lives. 
I believe God picks the hardest battles for his strongest warriors.
Joey is the strongest, bravest and happiest kid I know. Joey is and will continue to be my hope and inspiration. Although he had one heck of a start, I don't doubt for a second he is going to move mountains. 
I can't thank you each enough for your prayers and presence in his life. We are so blessed. 
Brian Barry

Rachel Rasmussen

Jennifer Garceau

Diana Sorlie

Brian Sorlie
Our Supporters
Jennifer O'connor

June 2018

$100.00

Rebecca Jensen

Team Joey t shirt donation. Thank you all so much for supporting Team Joey. We love you!!

May 2018

$550.00

Janet Rose

You have come such a long way. Way to go, Joey!!!

May 2018

$25.00

Anonymous

It's just amazing on how well Joey's done his first year!! Love, Julie Warner

May 2018

Molly Paulsen

May 2018
Rebecca Jensen

Team Joey t shirt donation. Thank you all so much for supporting Team Joey. We love you!!

May 2018

$550.00

Jennifer O'connor

June 2018

$100.00

Cameron O'Connor

May 2018

$100.00

Janet Rose

You have come such a long way. Way to go, Joey!!!

May 2018

$25.00

Claudia Neal

May 2018

$20.00