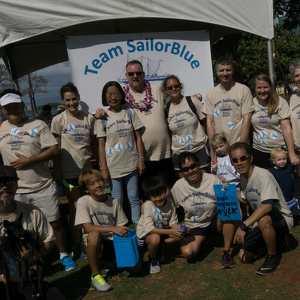 Team SailorBlue
Team SailorBlue's Fundraising Page
My Team Story
UPDATE 2:
WEATHER: Hurricane Olivia is predicted to have passed and the 'weather guessers' are saying it will be partly cloudy, 83 degrees wiht 15 knots of tradewinds. 
Team SailorBlue has come through like champions and crushed the $6,000 goal.  In 2016 Team SailorBlue raised $8,040.  We are going trying to beat that number and set a team record of $8,050.
Janice and I would be grateful if you would consider making a donation to Team SailorBlue
Mahalo nui loa for all you generosity.
Jerry & Janice
Thomas A'i

Jaime Go

Mark Tromblee

Melissa Tromblee

Randall Hiraki

Krista Tromblee

Nickolas Tromblee

Kaitlin Tromblee

Dean Shimabukuro

Anna Fanene

Vito Fanene

Lindsey Sutton

Tammy Kao

Danny Kao

Zachary Kao

Nicholas Kao

Frances Adams

Jamie Adams
Our Supporters
Tracy Lear

September 2018

$250.00

Terry Uyeda

September 2018

$40.00

Jamie and Marie Go

September 2018

$50.00

Thomas Ai

September 2018

$25.00

Anonymous

In honor of Jerry Boster

September 2018

$1,000.00
Anonymous

In honor of Jerry Boster

September 2018

Murphy's Fund of Hawai'i Community Foundation

August 2018

$1,000.00

Gary Caldwell

August 2018

$500.00

Timothy Dunne

August 2018

$255.00

Tracy Lear

September 2018

$250.00