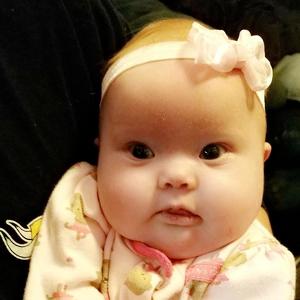 Team McKenna
McKenna's Love
ORIGINAL STORY:
Breanna is McKenna's mother. She has gone through a hard time having children and that's all that shes ever wanted. Breanna and Mason were so blessed to get pregnant with Tanner, their first pride and joy after trying for a long time. Breanna was diagnosed with a terrible disease called PCOS. This can make things extremely difficult to ever have children in the first place so after having miscarriages, they were over the moon. Breanna had a rough pregnancy. She has extremely high blood pressures and she was forced to deliver at 37 weeks. Fast forward about two years. Breanna and Mason decided that since things were only going to get worse over time with her disease, they should try one last time for a daughter! To their surprise, it worked!! Breanna was pregnant again! They were so very excited and of course, only wanted the best! They had their first ultrasound and everything looked how it should! At 13 weeks, Breanna was given the choice the do a test that would see what her chances of having trisomy 13, 18 and 21. Breanna got a call a few days later to inform her that first, she was having A GIRL!!! Breanna was so happy! She also got news that her daughter tested positive for trisomy 21, also known as down syndrome. As most of you know, this also normally means, pressure from the doctors to have an abortion as well as another whole list of health problems. For the next few weeks, Breanna would have increased ultrasounds and appointments. This is obviously stressful enough and it didn't help that she had to miss a lot of work which means losing money that she was trying so hard to save for maternity leave. Breanna was admitted and released from the hospital several times from about 25 weeks on for elevated blood pressures and other pregnancy related issues. At 35 weeks, Breanna was again admitted because of her  blood pressure issues. She stayed for about 2 days. She was released and the doctors started her on blood pressure meds that didn't make her feel too good. Two days later, she was back in the hospital with blood pressure ranging from 160/100-189/114. This was very scary for her and the doctors as well. After multiple doses of emergency meds, they decided to induce her. They told her that there was a high possibility that her daughter would come out blue with scary low oxygen levels. Breanna also had to be put on a Magnesium drip to ensure that she did not have seizures since her blood pressure was so high. At 1:10Pm on 9/16/17 weighing in at 6 pounds, Princess McKenna graced us with her presence!!!!! She did pretty good with her breathing and did not need the NICU right away. This was a huge surprise to all of the doctors and nurses. Then later that evening, her O2 dropped and she was forced into the NICU. This meant no more snuggles with mom, dad or brother. She had to also have a feeding tube as well as treatment for jaundice. Her levels were extremely high. McKenna ended up having her O2 drop extremeley low this night and needed an emergency breathing tube and is now in a coma. She went through weeks of open heart surgeries and ended up with septic shock. She then underwent a surgery to help with those issues and the surgeries we not sucessful. McKenna lived for approx. 2 more weeks and then it was her time to gain her wings!
Below you will find the last update on McKenna:
Hello everyone.   
It is with a very sad heart that I post this update. 
As I'm sure many of you know, princess McKenna has passed away. 
She passed on Saturday evening at 554 pm after a long hard fight. 
We were so excited to see Mckenna's perfect face on that beautiful fall day, September 16th 2017. 
McKenna was diagnosed with down syndrome while still in her mommas womb and even though there were trials and tribulations, her momma, daddy and family never gave up hope.  
She could light up the whole room she was in just with her smile. She was such a happy girl! She was stronger than all of us and that radiant strength will live on with us. She was such a special girl and anyone who set eyes on her, fell in love instantly! McKenna was such a special girl. She stole everyone's hearts from the moment they set eyes on her. 
McKenna went through some serious health problems but no one knew that this is what it would come to. McKenna was supposed to have an open heart surgery to fix her heart and was supposed to be home in superior, wi with in a few weeks. Unfortunately, that one surgery and few weeks turned into countless surgeries, months and failed treatments. 
Although she went through things that most of us couldn't fathom, she never failed to put a smile on our face and keep one on hers. She was so strong!   
"If ever there is tomorrow when we're not together.. there is something you must always remember. You are braver than you believe, stronger than you seem, and smarter than you think. but the most important thing is, even if we're apart.. I'll always be with you." -Winnie the Pooh 
Taylor Miner

Cheryl Miner
Our Supporters
Maria Runyan

May 2018

$25.00

Greg and Claudia Kamp

McKenna you are perfect!

May 2018

$100.00

Kelsey Peterson

May 2018

$25.00
Greg and Claudia Kamp

McKenna you are perfect!

May 2018

$100.00

Maria Runyan

May 2018

$25.00

Kelsey Peterson

May 2018

$25.00