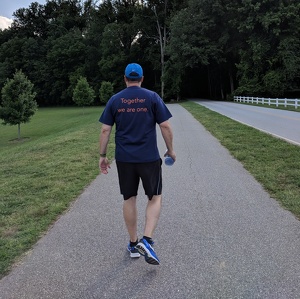 Jon's Food Drive 500 - A 500 Mile Walk Around the Triad for Second Harvest
500 Miles in 92 Days to Raise at Least $1,000 (or 7,000 meals)
This is Jon's annual challenge to support PTAA's Food Drive. It started out as a 367-mile challenge in 68 days. Why 367 miles? That's how far it would be to walk from the westernmost PTAA member community, to the southernmost, to the easternmost, to the northernmost and then back to the westernmost. Why 68 days? That was the time from the beginning of PTAA's food drive (May 1) until Matt's Run to Fight Hunger (July 7), which seemed like a very appropriate time to end a walk.
So why extend it 24 days and 133 miles? Because that's the number of days from Matt's Run until the end of PTAA's food drive on July 31 and adding 133 miles makes it an even 500 miles and "The Food Drive 500" seems like a cool name. Also, Jon hadn't made his goal of raising $1,000 and he's determined to get there.
For Jon to successfully complete this challenge he will have to average 5.4 miles per day, so that's gotta be worth something right?
Any amount helps, so please feel free to donate whatever you're comfortable with. Jon suggests a certain amount per mile, so if you do a dime a mile that would be $50 (350 meals), a quarter it would be $125 (875 meals), and of course, a dollar would be $500 (3,500 meals).
Our Supporters
Anonymous

August 2018

$1,000.00

Michael Coleman

July 2018

$20.00

Brannen Taylor

July 2018

$26.25

Judy Jin

July 2018

Betsy Spencer

July 2018
Anonymous

August 2018

$1,000.00

Patrick Eakes

June 2018

$100.00

Jon Lowder

April 2018

$100.00

Lisa Taylor

Congrats Jon!

July 2018

$52.50

Joan Campbell

Jon, thanks for all you do for Second Harvest Food Bank of NW NC. From letting us shave you head, to wearing high heels, to walking this year.

June 2018

$52.50