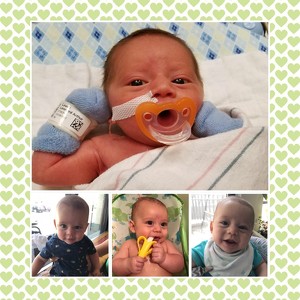 #LeoLove
Team #LeoLove - Fundraising Page
Leo couldn't wait to join this world!  He arrived 5 weeks early and has kept things interesting ever since!
As you can imagine, his unexpected and early arrival sent Simon and Nancy into a whirlwind of tough decisions and quick action.  They would have truly been lost without the expert support and service of the Neonatal and Special Care Nursery teams of Children's Minnesota.
The first two weeks in the NICU were tough on the Lewer family.  They couldn't bring their little Leo home.  Thanksgiving came and their little family would be spending it away from family gatherings in order to be bedside as Leo fought to get stronger.
Under the excellent care of neonatal doctors and nurses, Leo got stronger and finally got to go home!  Now, Leo is a wiggly and vibrant little guy with an infectious smile and adorable obsession with bananas.
Please join us and consider supporting little fighters like Leo and their families who spend sleepless nights by their hospital beds.
Aithy Nguyen

Chihuu Nguyen
Our Supporters
John Costanzo

June 2018

$25.00

Makayla Gorman

June 2018

Ben Stofferahn

June 2018

$25.00

Lisa Minshull

June 2018

Leah Leyendecker

June 2018

$50.00
Paula Anderson

May 2018

$100.00

Leah Leyendecker

June 2018

$50.00

Laura Telschow

My son was born 6 weeks early and spent 4 weeks in the NICU. Thanks to Children's Hospital in St. Paul he has grown into a strong, compassionate, and loving 32-year-old man. Children's is an outstanding care provider.

May 2018

$50.00

Sherry Grampre

Go Team #LeoLove! Leo was blessed with excellent care in the beginning of his life to give him the support he needed to thrive and grow - he is an amazing and adorable baby boy! Thank you for the opportunity to donate to such a wonderful cause!

May 2018

$50.00

Wade Anderson

May 2018

$50.00