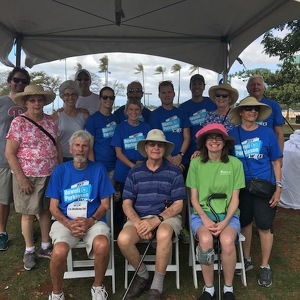 Team Kolohala
Our Team Fundraising Page
Welcome to Team Kolohala's page! 
At least two people with Parkinson's Disease live on Kolohala Street - Howard Bilkiss and Dr. Byron Eliashof.  Howard's daughter Dana grew up on Kolohala, and now living just a few minutes away, volunteers on the HPA's  Board of Directors. 
Howard and Byron stay healthy with medication and also lots of exercise.  They participate in boxing through OrthoSport, and take Parkinsons specific classes at the YMCA. 
Let' support Kolohala residents and the entire Hawaii community by funding the HPA.  Our fundraising will help HPA bring in speakers and hold symposiums, provide trainings, offer support groups, and further partnerships with providers in our community. 
Thank you for joining our team!
Meg McGowan

Kathy Bilkiss

Howard Bilkiss

Byron Eliashof
Our Supporters
Carl Tong

September 2018

$100.00

Donna Parrish

Thank you to the whole team! Donna and Charlie Parrish

September 2018

$100.00

Anonymous

September 2018

$50.00

Katherine Daido

September 2018

$25.00

Michael, Rene', Jackson, Melia Bilkiss

September 2018
Wendy and Brian Barbata

August 2018

$500.00

Kalapawai Market

Love you guys!

August 2018

$500.00

Howard Bilkiss

June 2018

$500.00

Kathy Bilkiss

June 2018

$500.00

Cades Shutte LLP

June 2018

$300.00