Team Breauxlliams for the Win!!!
NYSX ORIGINS
a short play
THE SCENE: It is 2009. Glorious green corn fields, backed by the splendor of New York's Catskills mountain, roll past as two bicyclists journey from Niagara Falls to the Statue of Liberty on a life-changing journey. The riders are ROSS and SHANE. It is "Red Dress Day" on the Empire State AIDS Ride, and both riders have embraced the absurdity of bicycling in full costume. It is hot. Their muscles are aching. Their hearts are alive.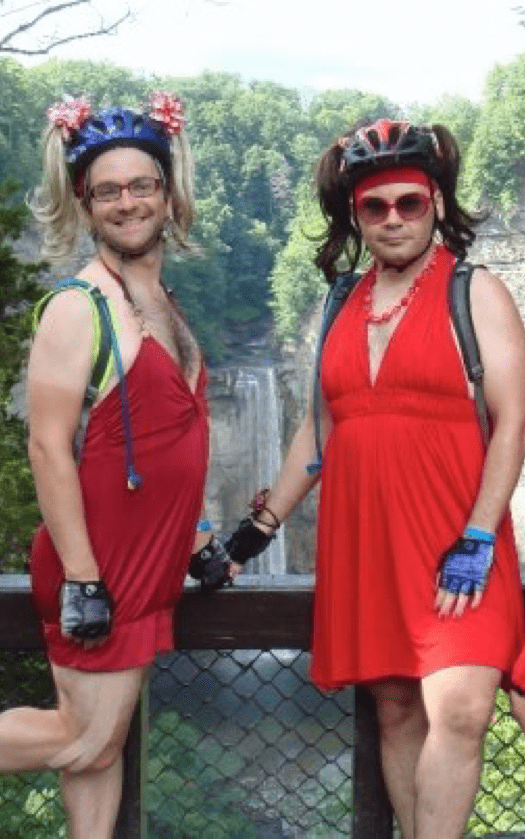 ROSS: I think I am going to start a Shakespeare company.
SHANE: I think I am going to go to graduate school.
ROSS: Do you think we can hold each other up through all that?
SHANE: I'm certain of it. And think of all the incredible art we can make.
ROSS: And the people we can reach!
SHANE: And the stories! Oh, the stories!!!
ROSS: (pointing to an imperfection in the street) Pot hole!
SHANE: (swerving to avoid it) Thank you pothole. (pause) You know, we could really make an impact.
ROSS: Yeah. I think we could.
And so began the journey of New York Shakespeare Exchange.
The End
*****
Over the past 9 years, we have made NY Shakespeare Exchange a priority in our lives. And in return, it has provided us the artistic home we need. We are humbled by the devotion of our artists and community. We are astounded by the growth we have acheived.
And we are unbelieveably excited about what comes next. Please DONATE today and help us reach our next set of goals. Your funding will support our next season of shows and will contribute to much needed institutional growth.
You are our community. You are why we do this. You keep us going.
Thank you!
Ross and Shane
Our Supporters
Lai Wan Wong

December 2018

$100.00

Jennifer Curfman

Go NYSX!!! Love, Jen and Evan

November 2018

Colette Andersen

Hope you win S&R!

November 2018

$52.00

Alfredo Macias

#SMteam #Huzzah

November 2018

$104.00

allison gamble

Get to work boys!

November 2018

$104.00
Ray Williams

Pamela Johnson and Ray Williams in Pittsburgh are boosting Shane and Ross to the max -- they can always count on us! We're just hoping we can make it back to the Big Apple in this 10th anniversary year to be a part of the celebration!

October 2018

$520.00

Anonymous

October 2018

$500.00

Nora Weir

October 2018

$260.00

Jim Speake

November 2018

$250.00

Alfredo Macias

#SMteam #Huzzah

November 2018

$104.00