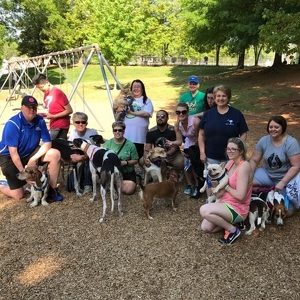 Every little bit helps
Help us as we try to to help the Humane Society of Charlotte raise funds for homeless animals in our area!
Please consider joining our team - not only is it a fantastic day out but it's also for a great cause! Don't have a pet to bring? No problem! We welcome all animals, even humans, so get yourself signed up and prepare for an awesome event! Busy on April 27th? We get it! Then please consider donating to the team. Every little bit goes a long way to helping our local animal friends!
MO

Matt Oste

MH

Mark Hutchins

IH

Isabel Hutchins

HH

Helen Hutchins
0
days
0
hours
0
mins
0
secs
Our Supporters
Victoria Burn

GO TEAM PAW & ORDER

April 2019

$25.75

Connie Bradley

April 2019

$25.75

Lynn Sullivan

Happy to bless a furry friend.

March 2019

$25.00
Victoria Burn

GO TEAM PAW & ORDER

April 2019

$25.75

Connie Bradley

April 2019

$25.75

Lynn Sullivan

Happy to bless a furry friend.

March 2019

$25.00