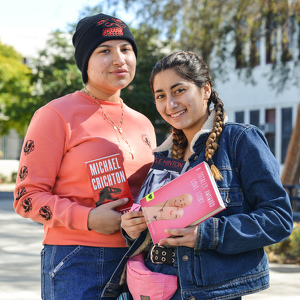 United Way's Young Civic Leaders
Who are we?
Hi!
United Way's Young Civic Leaders Program is a group of 65 students from across all Los Angeles Unified School District (LAUSD) Schools. All year long we dedicate ourselves to elevating student voice/power in decision-making processes that affect our education in order to influence real life policy change for all students of LAUSD!
Why are we participating?
We are so excited to be back, this year we hope to raise closer to $1,000 and we would like to dedicate our efforts this year to high school, community college, CSU, and UC students who are currently experiencing homelessness and food insecuirty while still trying to achieve their goals, this is one is for you! We see you, we hear, you we love you!
Why you should donate or join our team?
If you are a champion for LAUSD schools
If you are a champion for higher education
If you want to support the housing of college students and high school students
If you are a champion for elevating student voice/power
If you are against family displacement
If you are a champion for affordable housing
If you believe that housing is a right
If you believe we are truly the advocates of today and the future!
then you should donate our join our Homewalk team!
See you soon soon!
0
days
0
hours
0
mins
0
secs
Our Supporters
Kristy Day

April 2019

$100.00
Kristy Day

April 2019

$100.00