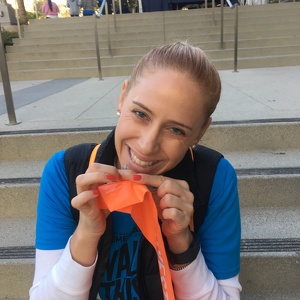 Vetty is Ready to Make a Difference, are YOU?
Volunteer, Join, or Give to help end homelessness in Los Angeles!
There are many ways to make a difference, but only one YOU to make it happen! 
Have you seen someone's friend or family member living on the streets or in their car?
Have you seen encampments underneath overpasses, along freeways, and sprinkled throughout your community?
Have you asked yourself how can I make a difference?
Have you asked yourself, why does this exist?
I CAN HELP!
Here are four ways you can help make a difference and get more involved!
LEARN: check out www.unitedwayla.org or www.everyoneinla.org
VOLUNTEER: click here: www.volunteer.unitedwayla.org
JOIN: register and walk with me on May 18th!
GIVE: give by clicking on the link! I have a personal goal to raise $1K in two weeks to help house and support those experiencing homelessness. Will you help me help others?
CF

Candice Francis

PW

Princeton Williams
0
days
0
hours
0
mins
0
secs
Our Supporters
Steven Nissen

To the Stott Walker!

May 2019

$100.00

Craig Anderson

Keep doing awesome work!

May 2019

$53.00

Erika Anderson

May 2019

$53.00

Ashley Lamothe

May 2019

$26.50

Yajaira Lara

May 2019

$26.50

Dane Dudley

May 2019

$42.40

Kyle Lewis

May 2019

$21.20

Jazz & Sho Constantine

Everlasting impact with compassion and kindness is love: I hope you realize the impact you have had and will have in the future. Keep indulging your giving nature! Love you and your entrepreneurial and philanthropic spirit so much

May 2019

$50.00

Rachel Balchum

May 2019

$92.90

Derrick Shelton

May 2019

$50.00

Lauran Jackson Smith

Happy to support you in your fundraising efforts. All the best to you!

May 2019

$53.00

Anya Littlefield

Go get em Vetty!

May 2019

Tanya Cook

May 2019

$25.00

Anonymous

May 2019

Jeremy Sosnoff

May 2019

$25.00

Nicole Zimmet

May 2019

$15.00

Dylan Stott

May 2019

$21.20

Rachel Hernandez

Gotta support the sis!

May 2019

$21.20

MICHAEL GARCIA

May 2019

$40.00

Raquel Stott

May 2019

$42.40
Steven Nissen

To the Stott Walker!

May 2019

$100.00

Rachel Balchum

May 2019

$92.90

Craig Anderson

Keep doing awesome work!

May 2019

$53.00

Erika Anderson

May 2019

$53.00

Lauran Jackson Smith

Happy to support you in your fundraising efforts. All the best to you!

May 2019

$53.00

Jazz & Sho Constantine

Everlasting impact with compassion and kindness is love: I hope you realize the impact you have had and will have in the future. Keep indulging your giving nature! Love you and your entrepreneurial and philanthropic spirit so much

May 2019

$50.00

Derrick Shelton

May 2019

$50.00

Dane Dudley

May 2019

$42.40

Raquel Stott

May 2019

$42.40

MICHAEL GARCIA

May 2019

$40.00

Ashley Lamothe

May 2019

$26.50

Yajaira Lara

May 2019

$26.50

Tanya Cook

May 2019

$25.00

Jeremy Sosnoff

May 2019

$25.00

Kyle Lewis

May 2019

$21.20

Dylan Stott

May 2019

$21.20

Rachel Hernandez

Gotta support the sis!

May 2019

$21.20

Nicole Zimmet

May 2019

$15.00