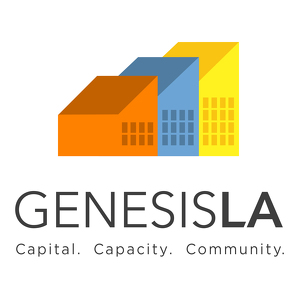 Join Genesis LA in the fight against homelessness
Genesis LA is a nonprofit community loan fund and is certified by the U.S. Department of the Treasury as a Community Development Financial Institution (CDFI).  Our range of financing products have supported various homeless housing intiatives that have produced 425 permanent supportive housing units for individuals experiencing homelessness.
Learn more about Genesis LA's work at http://www.genesisla.org/.
SP

Stanislava Parashkevova

AD

Arvin Dicioco

AD

Alfred Dicioco

LU

Lara Uyehara

ED

Ed Dicioco
0
days
0
hours
0
mins
0
secs
Our Supporters
Zeinab Albatal

May 2019

$20.00

Dutch Ross

Congratulations Team Genesis LA

May 2019

$106.00

Thomas De Simone

May 2019

$500.00

Bryan Hung

May 2019

$100.00

Brian Mercado

May 2019

$106.00

Paul Chen

Go Go Go...Team GLA

May 2019

$500.00

Brian Sinclair

BBVA Compass Bank

May 2019

$20.00

Anonymous

This donation is made in honor of and in thanks to Brian Mercado! Thank you for participating in research with Martec and for your generous donation of this expert fee.

May 2019

$106.00

Pavlin Buchukov

May 2019

$53.00

JEM DICIOCO

May 2019

$100.00
Thomas De Simone

May 2019

$500.00

Paul Chen

Go Go Go...Team GLA

May 2019

$500.00

Dutch Ross

Congratulations Team Genesis LA

May 2019

$106.00

Brian Mercado

May 2019

$106.00

Anonymous

This donation is made in honor of and in thanks to Brian Mercado! Thank you for participating in research with Martec and for your generous donation of this expert fee.

May 2019

$106.00

Bryan Hung

May 2019

$100.00

JEM DICIOCO

May 2019

$100.00

Pavlin Buchukov

May 2019

$53.00

Zeinab Albatal

May 2019

$20.00

Brian Sinclair

BBVA Compass Bank

May 2019

$20.00