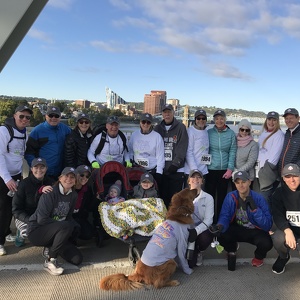 Why we Walk Ahead for a Brain Tumor Cure
Join us as we Walk Ahead for a Brain Tumor Cure on October 20!
The search for a cure for brain tumors continues--so us Warriors need to keep fighting for this incredibly important cause!  My story is one of hope, endurance, love and blessings...yes, I battled a brain tumor, twice. But my focus is not on the past but on their goal to make the road softer and gentler for all of our kids, grandkids, great grandkids, and for all.  In fact, I want to eliminate this as a road anyone has to travel down.  WILL YOU PLEASE HELP ME DO THAT?
Thank you to all who have joined us in the past and I respectfully ask for your continued support. I love you all for your time and commitment!!  For those new to all of this--PLEASE  consider joining our team, The Warriors, either by walking with our growing group, running or sharing your resources for this important cause.  Let's all get the word out through our friends and family that we can all make a difference!
Peace and blessings,
Tracey
PR

Patrick Riepenhoff

$1.00

NR

Nicole Riepenhoff

$1.00

JR

James Riepenhoff

CR

Callie Riepenhoff
Our Supporters
Lawrence E Mock III

November 2019

$52.00

Benjamin Zelinskas

October 2019

$40.00

Patrick Riepenhoff

October 2019

$25.00

Margie Mullen

I will be out of town this year so won't be able to walk with you.

September 2019

$25.00

Matt Ackermann

September 2019

$104.00
Matt Ackermann

September 2019

$104.00

Lawrence E Mock III

November 2019

$52.00

Benjamin Zelinskas

October 2019

$40.00

Patrick Riepenhoff

October 2019

$25.00

Margie Mullen

I will be out of town this year so won't be able to walk with you.

September 2019

$25.00