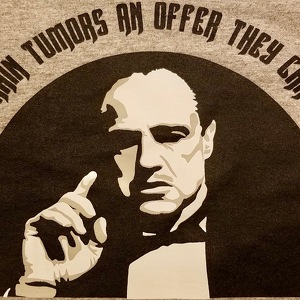 Why I Walk Ahead for a Brain Tumor Cure
Brain tumors suck!  I have a new norm, but I don't necessarily like it.  I'm grateful to still be here, but I don't want people to have to go through what I went through.  Believe it or not Cincinnati is on the leading edge of brain tumor research and treatments.  I want to help speed those along and this walk raises significant funds for these efforts.  Help me, help UC beat the crap out of brain tumors.
This is a milestone year for me - at the end of October, I will have my 15 year follow-up.  If my MRI scans are clean, then I will no longer require follow-up!!!  This has been a long journey and I'm grateful for the continued support of all my mobsters.
Since this is a milestone year, we will be having special Mobster T-shirts made to help commerate this major event in my life.  Please join the team by Sept. 27th so we can get you a celebratory t-shirt for this years run.  We will also be taking our mobsters out for breakfast after the run as a thank you for your fundraising, your participation and your support throughout my journey.
Please join my Mob as we Walk Ahead for a Brain Tumor Cure on October 20
Marla
aka Mob Boss
DS

Dina Schmid

$45.00

SS

Scott Schmid

$45.00

JP

Jason Prenger

$40.00

SP

Sarah Prenger

$40.00

HK

HandsomeJoe Kitching

$40.00

JB

Jane Bretl

$40.00

CE

Cheryl Edelmann

$40.00

JP

John Prenger

$40.00

DE

David Edelmann

$40.00

AE

Anthony Edelmann

$40.00

NE

Nathan Edelmann

$40.00

SP

Sue Prenger

$40.00

GP

Garrett Prenger

$40.00

SS

Sara Stover

$40.00

CS

Curtis Stover

$40.00

AS

Audrey Schmid

$15.00

KP

Kathryn Prenger

$10.00

EP

Eli Prenger

$10.00

AP

Alex Prenger

$10.00

IE

Isaac Edelmann

$10.00

GP

Gwen Prenger

$10.00

KE

Kyle Edelmann

$10.00

GP

Grace Prenger

$10.00

LP

Leah Prenger
Our Supporters
Nikki Howard

Congratulations on 15 yrs cancer free!

October 2019

$52.00

Michelle and Don Hershey

October 2019

Terry Oakes

October 2019

Anonymous

October 2019

Melissa Nowlin

Way to go Marla's Mob!!!

October 2019

$52.00
HandsomeJoe Kitching

September 2019

$150.00

Pinnacle Financial Advisors, LLC

Good Luck Marla's Mob!

September 2019

$104.00

Don and Jane Bretl

September 2019

$100.00

Jerome Gross

August 2019

$100.00

Gary Gross

August 2019

$100.00