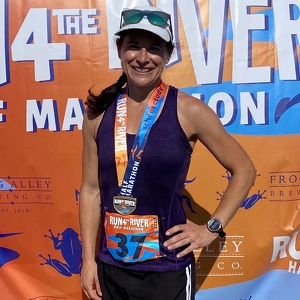 Katie Brown
October 10, 2021 7:00am - 3:00pm
26 for 26
One year has passed since I ran a 25K to honor the 25 years since my dad's suicide. I had hoped to run the 2020 Chicago marathon to mark the quarter century of losing him, but we all know how 2020 went!
However, 2021 seems like the year to run 26 for 26 (26.2 miles in memory of the 26 years that I have lived without my father). So I am going to run the Chicago Marathon this October and support an organization that helps raise awareness about depression and mental health. I've chosen to raise funds for Erika's Lighthouse (Team Resilience), an organization that provides mental health services and outreach programs to adolescents all around the world. Our children will need these services more than ever after the last 18 months. I've spoken with several school psychiatrists and social workers that have stated that they have seen significantly more students struggling than ever before.
Erika's Lighthouse is active in 558 schools across 43 states and six different countries, providing programs to bring awareness and educate students about depression. The organization provides resources for parents to recognize the signs of depression and ways to support their children. They aid in empowering adolescents to take charge of their own mental health and aim to bring depression out from the dark!
It is important to identify and treat mental health challenges as early as possible, which is why I chose an organization that works with youth to commemorate the many years since my dad's death.
I would be humbled by your contributions and appreciate any amount you are able to give toward my goal of $14,000. Many donations will be needed to reach that goal, so please help by supporting this wonderful organization.
Updates
September 5, 2021
Five weeks until the marathon! Yesterday, I ran my first race since fall of 2019: a small half-marathon where I crushed my half-marathon goal that I failed to meet back in 2019! Since it was my long run day, I added a four mile cool down run after crossing the finish line. Today, I completed the running week and met yet another milestone to my training: 50.5 weekly miles! I can not believe that I managed to run that much in one week! Getting closer and feeling stronger by the week! Only a couple more weeks left of increasing distance before it is time to taper and recover before the marathon.
I will say that all the running, driving kids around to sports activities, preparing for the start of the school year, and other obligation have me feeling tight on time and wiped out, so I apologize for not having much in the way of updates (or responding to text, messages, etc). I haven't even found time to book my flight to the race yet!!! I want to be able to do more for my fundraising, but I just don't have enough bandwidth at this time and that's hard for me to accept. It's important to me that I do as much as I can for Erika's Lighthouse and mental health awareness, but I am hopeful that I can do a bit more for the cause once school starts and I head to Taper-town! I'll make it happen, somehow! I am sure!
August 22, 2021
Another distance milestone in recent times in the books! Today's long run was 17 miles, but also surprising was the number of miles that I completed overall this week: An amazing 48.5!!! I can't recall what I had done weekly for my previous marathons, as I tracked those with paper, but I am certain that I did not log nearly as many miles back then. After all, I had a toddler back then and even though I ran with him in the stroller back then, I wasn't running the same distance during each run OR as frequently during the week.
The last few weeks have been a bit tricky for running as well. I've managed to get in all of my runs, specific speed workouts, and distance needed while also traveling to see loved ones over the weekend. However, its getting done!
August 13, 2021
Today I ran the furthest I have run in over a decade: Since the Boston Marathon in 2011 and before I had Miles! It is amazing to me to tackle this distance, feel strong that I was able to overcome it, but then realize I will still have ten more miles to add to that distance during the marathon. It's a weird swing of confidence and self-doubt. But I feel strong, so I am trying to remain optimistic that I'll get through it!
July 30, 2021
Last week was a demanding and challenging week of marathon training. So much so that I'm still feeling it and seeing it's impact on my running this week. One of the things about doing marathon training correctly is adhering to the schedule to the best of your ability if your body is able. Last week, we went away for a couple days for a hiking trip. Which meant I still needed to get my seven mile run in as the day started and then follow it up with six mile hikes with my family. I certainly felt tough and strong those days, but much more lethargic with weak legs this week. Thankfully, this week is a recovery week, so my weekly mileage this week is *only* 30 miles as opposed to last week's 39.5 and next week's 42! I've got this!
July 18, 2021
Today completed the sixth week of marathon training! Only 12 weeks to go until I toe the line of the 2021 Chicago Marathon. Today's run was half-marathon distance, and it went really well. It is also the shortest long run that I will have for the rest of my training, excluding the taper weeks. Which is a bit daunting. Yet, I am looking forward to tackling some of the longer distances (what is wrong with me?!?). Since moving in November, I've enjoyed exploring many new routes for my runs. My upcoming long runs will enable me to branch out even further and explore roads I have been itching to run. Soooooooon... :-)
Erika's Lighthouse is determined to make sure no young person feels alone in their depression. We are dedicated to creating a community of empathy and education. We create middle school and high school teen depression awareness programs so educators and teens can create safe spaces to learn about depression, letting students know they are never alone, and there is somewhere to turn.
My Supporters
Anonymous

December 2021

Anonymous

December 2021

Barb Bristol

October 2021

$54.57

Facebook Donor

October 2021

$260.00

Frances Richards

Very best wishes for a fun 26 for 26 Katie! Enjoy the adventure

October 2021
2020 Fundraising

October 2020

$3,541.40

Anthony Riley

September 2021

$419.80

Facebook Donor

October 2021

$260.00

Facebook Donor

October 2021

$200.00

Jesse Keating

October 2021

$104.95