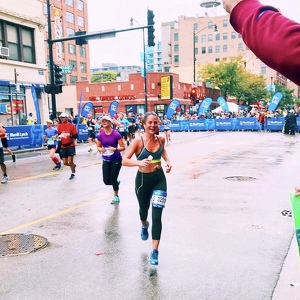 Amanda David
Support My Fundraising Efforts
Please support me as I run the 2022 Chicago Marathon as a part of the Erika's Lighthouse team!
"Though no one can go back and make a brand new start, anyone can start now and make a brand new ending."
Erika's Lighthouse was founded in Winnetka, Illinois and is dedicated to raising awareness of adolescent depression and empowering adolescents to take control of their mental health. Erika's Lighthouse creates and runs adolescent depression awareness programs so educators, families, and adolescents can have safe spaces to learn about depression, letting students know they are never alone, and there is somewhere to turn.
From as long as I can remember, running and sports have always been anchors for me so I am so excited to be running the 2022 Chicago Marathon in support of an organization that is committed to #gettingdepressionoutofthedark and helping other adolescents find their own anchors. 
My Supporters
Sandra McCausland

What a great cause to run for! We'll all be cheering you on. Go Amanda!!! The McCausland's

October 2022

$200.00

Martina Keller

Good luck from the McLellan family!

October 2022

$104.95

Anonymous

October 2022

$157.42

Lewis and Lucy Steverson

Great cause, Amanda! Well done!

October 2022

$100.00

Beth Kemp

Good luck! Hope you will be well enough to run!

October 2022
Donald McLellan

October 2022

$500.00

Christine David

You're running for a great cause!! I'm so proud of you!!

October 2022

$314.85

Anonymous

We support you, your efforts, and this cause 100%! From, The Slosburgs

October 2022

$250.00

Sandra McCausland

What a great cause to run for! We'll all be cheering you on. Go Amanda!!! The McCausland's

October 2022

$200.00

Jeff Brown

Run, Amanda, Run

October 2022

$200.00