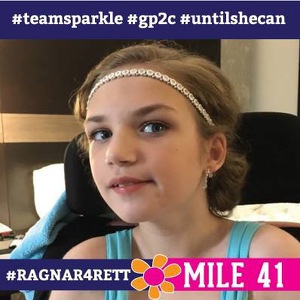 Avery
My Personal Fundraising Page
Avery was born on May 31, 2006. She was the easiest baby ever--rarely crying, happy to just be. She seemed to develop normally but somewhere around 15 months we realized all was not normal. I suspected Autism since she had alot of the same signs as her brother (who On the spectrum).

After starting testing I came across Rett Syndrome on the internet and knew immediately that this was what Avery had. On April 7, 2008, a month and a half shy of her second birthday we got the dreaded news, Avery tested positive.

Avery is currently in second grade. Avery is proving herself daily and learning right along side her typical peers! She amazes us with her tenacity to fight Rett Syndrome!

She is very social. She loves to play like any other little girls and is very opinionated about clothes and her own style!

We pray everyday for a cure or treatment and are hopeful that one day through the help of Girl Power 2 Cure and other Rett Syndrome fund raising that one will be found!
My Supporters
Anonymous

March 2017

$250.00

Hope

Hoping they find the answer for these precious girls!

March 2017

$20.60

Jane

March 2017

$25.75

Marianne

March 2017

$25.75

Melissa

We love you, Avery!!!

March 2017

$25.75

Jody

March 2017

$15.45

Anonymous

March 2017

$10.00

Anonymous

March 2017
Anonymous

March 2017

$250.00

Jason

We love you Avery and we will keep fighting for you and all your sisters!!

March 2017

$100.00

Jane

March 2017

$25.75

Marianne

March 2017

$25.75

Melissa

We love you, Avery!!!

March 2017

$25.75

Anonymous

March 2017

$25.75

Hope

Hoping they find the answer for these precious girls!

March 2017

$20.60

Jody

March 2017

$15.45