MOTHER'S DAY TIME TO TEAL
Presented by the Michigan Ovarian Cancer Alliance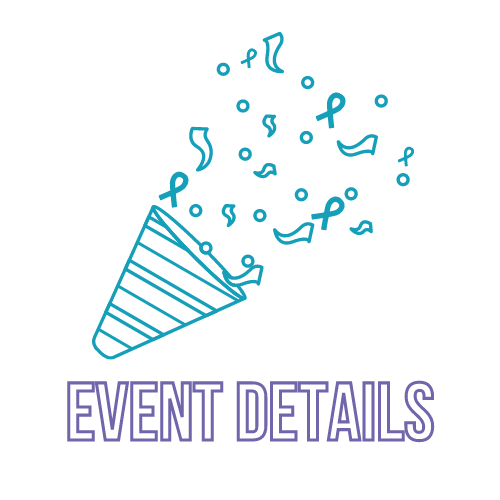 Event Begins at 1:00pm
Check-in at MIOCA designated table, location for this coming soon.
Participants will be given a map or a link(based on preference) for the guided tour. A reusable bag will be provided to collect items along the route. There will be a number of designated stops along with a MIOCA volunteer at each of them. If you prefer not to enter the location, a volunteer will be there to assist.
If you have any questions, feel free to contact Emily at emilyhaan@mioca.org. We are excited to offer this event safely and hope this will be a fun and awareness spreading experience. Make sure to wear your TEAL.
We ask that all participants wear a mask during the event in order to follow safety protocols.

We are currently working with our community partners to establish an exact route.
We will have a route outlined for you with a provided map, the day of the event. We will also provide you with a link if you would like to utilize Google Maps to guide you. Stay tuned for updates as we secure locations!
Head over to our community partner page to check out who will be a stop along our route!
We are even partnering with other local businesses that may not be a designated stop, but they will be placing awareness materials out in their storefronts and inside for other community members to see.
0
days
0
hours
0
mins
0
secs
COVID-19 Precautions
We take the utmost caution in relation to COVID-19. We as an organization follow all guidlines from the CDC (https://www.cdc.gov/coronavirus/2019-ncov/communication/guidance.html).
We plan to take all necessary precautions to make this event as safe as possible.
Here are some considerations we are keeping in mind:
Masks are required for all particpants and volunteers during the event.
Event to take place outdoors, aside from deisgnated stops that allow the option to enter a local Ann Arbor business to collect "themed surprise".

**If any particpant is uncomfortable with entering a business, we will have a designated volunteer at each location to safely hand the "themed surprise" outside of stop.

Any stops or tables represented by our sponsors or MIOCA will have 6ft indicators to maintain social distancing.
We are encouraging groups and team participants to engage with only their deisgnated pods.

We are encouraging a maximum of 4 participants within each touring group.

We gladly offer a virtual run/walk option for those who wish to participate from the comfort of their own community.
FAQ's
What if I am particpating from home, how will I receive my event package? 
We will be mailing out event packages the week of May 3rd. We are a small team and will do our best to get the packages out as early as possible to ensure delivery before the event. 
Are there T-shirts? 
This year we decided on an alterative to meet the needs of the event. We will be providing resuable bags with additonal goods within. The bags will allow you to collect the items during your tour.
Where do I park?
Lucky for us parking is free on Sunday's in Ann Arbor. Feel free to use any of the city's parking at no cost. Find Ann Arbor parking here.
How long is the event?
We are planninf for the event to start at 1:00pm. You show up and collect your registration packet and begin the tour. We are not on a set time frame after that and want you to take your time and enjoy the stroll.
Why our Founder participates in our Mother's Day Time to Teal
Our Wonderful Supporters
Jan Potts

13 hours ago

$105.00

Carol La Mange

A day ago

$21.00

Linh Cundiff

A day ago

$40.00

Yum! Baked Goods

For my Aunt Mary who still joyfully lives each day, all Ovarian Cancer survivor's and for those who have moved over to God's side.

3 days ago

$100.00

Anonymous

3 days ago
GSK

2 weeks ago

$5,000.00

Amcor

Amcor Sponsorship

3 weeks ago

$5,000.00

Anonymous

3 weeks ago

$2,500.00

Domino's

Domino's Ribbon Sponsor

2 weeks ago

$1,000.00

Anonymous

4 weeks ago

$1,000.00
Our Newest Participants
LV

Lisa Vinson

KD

Karen DeVine

LE

Leah England

LE

Lundon England
View All