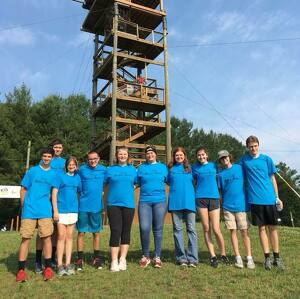 Team Nicholas
Welcome to the Team Nicholas page!
For several years good friends have gathered (and fundraised!) for Team Nicholas to support great autism organizations. This year, money raised by Zipping for Autism will go to Camp Lakey Gap, for camp scholarships for autistic children and adults, and Liberty Corner Enterprises, which provides residential and employment supports to adults with autism and other intellectual disabilities. 

Nicholas Hemachandra is the captain of Team Nicholas, and he and all his teammates, in past years and this year, thank you for your kind, generous support!
Our Supporters
Joanne Moss

June 2021

$25.00

Jennifer Peeples

Go Nicholas!!

June 2021

$10.50

Sandra Chen

Soar high and know your continuous enthusiasm to helping others inspires those around you.

June 2021

$78.75

Katherine Glance

June 2021

$52.50

Liz Flowers

May 2021

$20.00
Headwater Environmental

November 2020

$105.00

Michael Ayat

To Sean from Kristin and Mikey

August 2020

$105.00

Peter Fontaine

August 2020

$105.00

Anna Robertson

August 2020

$105.00

Belinda Saville

You are a wonderful person with a beautiful heart, Nicholas! Wishing you the very best with your fundraising! Love and light to you from Sydney, Australia :) xxx

September 2020

$91.35