For 60 years, the Sisters Oblates to the Blessed Trinity, have devoted themselves to the service of others – in New York and other communities.
They teach young children, support food pantries and soup kitchens, and minister to the poor.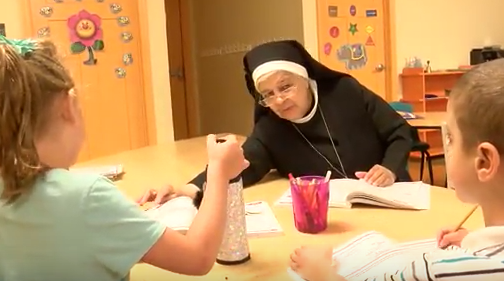 Sr. Julia teaches pre-K children
Now they are facing a huge challenge inside their own organization. Many sisters are elderly and need care. Nuns must provide their own senior living arrangements – the Church does not build facilities for elderly sisters.
So this amazing group of sisters took a bold step: They set aside a large portion of their property in Hopewell Junction, NY, to build an assisted living facility. Sisters from their order – and others – will be welcome there.
Now, the sisters have been blessed with a pledge of $1 million. It is a matching gift pledge. For every dollar you and other give, this donor will give a dollar. So the combined potential is $2 million, enough to build the assisted living facility. But hurry – the matching pledge period ends on June 30, 2019.
These women have faithfully served God, our children, the hungry, the poor, the sick. This is an extraordinary opportunity to help the elderly and infirm among them.
Questions: Contace OBTsisters@gmail.com. Or call (347)291-4587.