From the EarthShare Washington staff, please accept our thanks for participating in the 2014 Earth Day Corporate Challenge (EDCC). The event raised $8,474.00 in contributions of time and money, a respectable figure by any standards, particularly for an inaugural year. We hope you feel pleased that the donations raised by your team benefit environmental organizations and programs throughout our state. Quite literally your teams help create and maintain the kind of Washington we all want!
We hope to see you next year.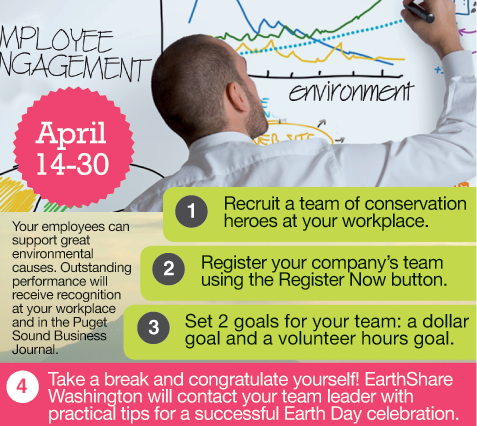 In recognition of Earth Day 2014 we're issuing a challenge to Washington companies; Together, in 16 days, raise $50,000 and volunteer 1,000 hours to benefit Washington environmental charities and make a REAL impact on our environment.

Your participation in the Earth Day Challenge will benefit over 36 environmental nonprofits that work across a variety of environmental issues areas.
What you'll do:
Find fun, creative ways to raise money for prominent green charities
Engage employees in volunteer events and earn volunteer Challenge credit
Promote your company's sustainability efforts and successes
What participating companies get:
Free content and materials to promote the challenge, Earth Day and sustainability in your workplace
Free use of the volunteer tracker and fundraising software so you can show your company's impact during Earth Month
A way to build excitement in your workplace about your company's green initiatives
Opportunities for team building and employee engagement
A chance for your company to win awards and be recognized in the PSBJ
A chance to reach out and involve vendors and clients
There is no better way to be a community sustainability leader, engage your employees and support a greener, healthier planet. Take the challenge today!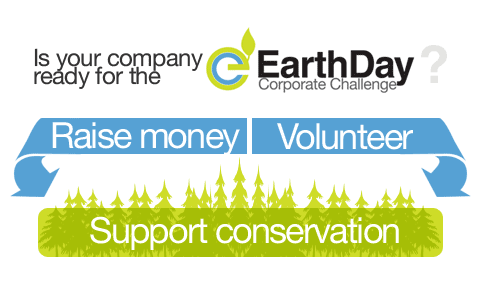 Search Participants or Teams
Make a General Donation