Search Participants or Teams
Make a General Donation
Support Team Samaritan House in Ride the Rockies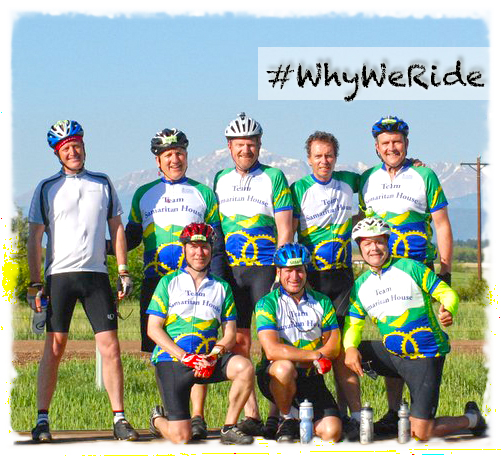 Riding faster and stronger, cycling team "Samaritan House" is back for the fourth consecutive year to participate in Colorado's Ride the Rockies cycling tour, happening June 7-13, 2014. Team captain, Tom Schwein (Catholics Charities board member) and co-captain Tom Dea originally formed the team and continue riding each year to help raise funds to support men, women and children experiencing homelessness.
Learn More about our Homeless Shelters.
This year's proceeds will benefit Catholic Charities five homeless shelters: The Mission serving Larimer County, The Guadalupe Community Center and Shelter serving Weld County, Samaritan House serving Denver Metro Area, St. Joseph's Veterans Home serving Denver Metro Area and Father Ed Judy House serving women and children.
When:
June 7-13, 2014 Where: Starting in Boulder and ending seven long days later in Golden
Why
: To help change the lives of individuals and families who are experiencing homelessness in our community.
Goal:
To raise $50,000! 
Did You Know...
On average it costs approximately $9,000 per day to run Samaritan House!
2014 Team members
:
Tom Schwein
Tom Dea
Larry Smith
Pam Sanelli
Tim Mess
Dave Kent
Becky Keller
Tracey Riley
Pete Dempsey
David Brewster
Mike Marion
Tim Balfe
Leslie Prevish
Dave Kilty
John Milewski
Russ Shaw
How can you help?
Help us reach our goal with a financial donation. Some donations may qualify for an additional state tax credit.
Learn more.