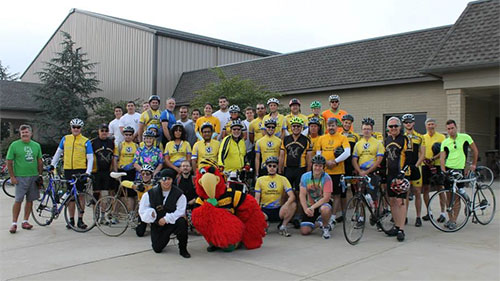 To American Dream Ride Scholarship Participants, Student Sponsors, Alumni and all those who supported us and cheered us along the way – THANK YOU!!!
We had 68 cyclists (goal was 50), 24 of whom were students!  Through everyone's efforts, both participants and volunteers, we achieved $85,000 for the Scholarship (goal was $75,000)!
 
On a beautiful sunny Saturday, September 20, 2014, we had fun, made new friends and achieved our goals for the American Dream Scholarship!
 
A huge thanks to the volunteer committee who worked tirelessly over the past several months; to the MU Wrestling Team, who provided flier distribution and set up support; the Pep Band, Cheerleaders, Skully and the Marauder, who brought us entertainment at the Rest Stop at the Winter Center; to Dining Services for providing much of our treats, and especially to all of our Corporate Sponsors who placed value in supporting the event for our students successes!
Plans are underway for next year's American Dream Ride.  Visit our site for updates soon!