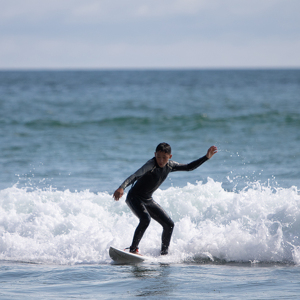 Our Team Fundraising Page
Surf Your ♥ Out
Hi! We are a group of current B2M young men that have been training with our mentors to undertake the 100 Wave Challenge for Boys to Men Mentoring. We know firsthand the impact that the program has had on our lives and we want to support B2M in their efforts to bring positive male mentorship to even more young men in San Diego County.
Boys to Men Mentoring is a nonprofit organization facilitating consistent group mentoring for the fatherless, at-risk, and disconnected teenage boys of San Diego County. Through strategic partnerships with local middle schools, high schools, and community partner locations, Boys to Men connects teenage boys with compassionate mentors who provide the encouragement, empowerment, and accountability they need to thrive.
Please consider making a donation to our team and help us support young men just like us!
Ryan's story:
Ryan is a young man who has thrived under the mentorship of Boys to Men since 6th grade. Ryan attributes his success to the invaluable lessons he has learned through being a part of our in-school mentoring program, including the ability to express himself in a group environment and the importance of empathy and support. Despite the challenges of the pandemic, Ryan has continued to participate in virtual mentoring circles, where he has found a social outlet and a supportive community.
Now a senior at Helix High, Ryan is working to create a support group for young men at his school and hopes to attend Hawaii University to become an Astrophysicist. Over the course of his almost 7 years with Boys to Men, Ryan has participated in two of our Journeyman Leadership Retreats and led his peers at our Adventure Mountain Weekends retreats. His dedication and leadership within the organization are a testament to his growing confidence and skills. Ryan states, "No matter what I end up doing, I'll always stay connected with Boys to Men. I look forward to becoming a mentor and giving back to the organization and community." Your support can help ensure that Boys to Men can continue to provide transformative experiences like these for young men like Ryan who need it most. Join us in empowering the next generation of leaders and changemakers.
0
days
0
hours
0
mins
0
secs
Learn More About Boys to Men
Our Supporters
ROSA CAROLINA SALAZAR

4 days ago

$52.50

Anonymous

4 days ago

Anonymous

1 week ago

Joel Kudren

2 weeks ago

$52.50

Douglas Burns

2 weeks ago

$500.00
Kaiser Permanente

Last month

$7,500.00

Dr. Bronner

2 weeks ago

$5,000.00

Bluewater Vacation Homes

4 weeks ago

$2,625.00

Douglas Burns

2 weeks ago

$500.00

Linda Irwin

Last month

$262.50