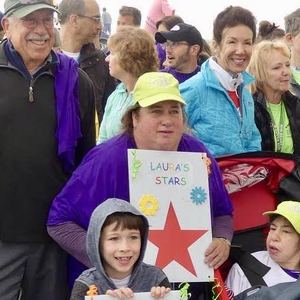 I have been participating in the Star Walk 5K Run & Roll for the past fourteen years. I have also enjoyed helping the STAR Program raise money. I've taken care of Jenna for over two decades. She is a large part of my life. The walk benefits many people like her who have intellectual disabilities. I have made many friends who need our help. Please contribute what you can to make this event a success. Please join us on May 5th, if you can, to walk by our sides.
Help us raise critical funds to benefit our neighbors with intellectual and developmental disabilities. Money raised fund Birth to Three Early Intervention therapies, Customized Job Training and Placement for transitioning high school students and adults, Scholarships for classes and self-enrichment programs for over 600 people per year in Fairfield County. You can make an impact today! 
Please join us and support STAR's annual Walk, 5K Run & Roll. Your donation of $10 or more will help us reach our goal and make an impact on many lives.
THANK YOU!!!!
LAURA BLAIR
0
days
0
hours
0
mins
0
secs
Our Supporters
Sydney Brown

July 2019

$25.00

Staples High School

June 2019

$65.00

Carol Kaye

May 2019

$26.50

Monte and Joan Engler

May 2019

$100.00

John Canning

May 2019

$50.00

Staples High School

May 2019

$50.00

Staples High School

May 2019

$100.00

Tracy Fincher

Laura - you are a star!

May 2019

$100.00

Sarah Fair

From Staples Girls Basketball!

May 2019

$79.50

Leslie Hammer

May 2019

$25.00

Tamara Weinberg

May 2019

Christopher Pepoy

May 2019

$106.00

Stacey Phelan

May 2019

Sarah Fair

To Laura and Jenna. The BEST Superfans! We love you!!

May 2019

$106.00

David Martin

May 2019

$106.00

Russ and Isabel Blair

May 2019

$100.00

Patricia Keenan

May 2019

$20.00

Laura Blair

May 2019

$300.00

Mary Ellen Guzewicz

May 2019

$1,000.00

Propper Chiropractic

May 2019

$62.00
Mickey Herbst

Go Laura's Stars

April 2019

$2,120.00

Mary Ellen Guzewicz

May 2019

$1,000.00

Walter Stewart Friends

April 2019

$800.00

Blair Family

April 2019

$750.00

Charles and Kathleen Berg

March 2019

$750.00

Palmer's Market Friends

April 2019

$577.00

Laura's STARs Westport Stop and Shop

April 2019

$436.00

Tony's Deli

March 2019

$350.00

Sanford Fisher

April 2019

$318.00

Laura Blair

May 2019

$300.00

Stop and Shop Wilton

April 2019

$267.00

Staples Gridiron Club

April 2019

$250.00

Betsy Ready

Go Laura go!!!

March 2019

$212.00

Mony Rueven

April 2019

$190.80

Staples High School

May 2019

$181.00

, Anonymous

April 2019

$141.00

Anonymous Friends

March 2019

$140.00

Staples High School

April 2019

$135.00

Howard Friedman

In support of Laura and Team Jenna

April 2019

$125.08

Christopher Pepoy

May 2019

$106.00