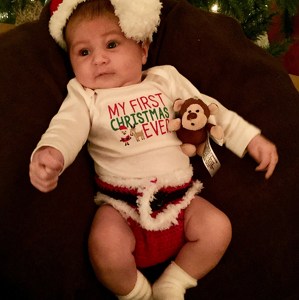 Love for Phoenix
September 14, 2019
Our Team Fundraising Page
Go Team! We can reach our goal together!
Here's Girlie's and Cory's story...
Our journey to become parents started in early 2014 when we decided we were finally ready for a family.  After over a year of infertility, we were excited to discover we were pregnant on Labor Day, September 7th, 2015!  It was early so we kept it to ourselves and started to plan our exciting future with this little one. We planned on telling the family on Christmas. We were both devastated when we miscarried on October 15th, the universal day of remembrance for pregnancy loss and infant death. We never got to see an ultrasound picture of our angel baby, Phoenix Alexander.
After another journey of infertility, God blessed us with a rainbow baby, Phoenix Jade, born on November 6th, 2017.  She was our miracle, so perfect, even during pregnancy.  Phoenix loved her floor gym, her "I love Daddy" nookie, and her four-legged sister, Minnie (Click here for Minnie's Page). We got to celebrate Thanksgiving, Christmas, and New Year's with our little peanut. 
On February 2nd, 2018,  Phoenix was found not breathing after a nap at her daycare and passed away at Children's hospital 2 days prior to being 3 months old on February 4th, 2018. The daycare lady was charged with 2nd degree manslaughter and sentenced to 6 months house arrest.  Cory, friends, family, and I are advocating for harsher penalties.  Follow our journey on "Justice for Phoenix" Facebook page and our story on Fox 9 news: 
http://www.fox9.com/news/family-hospital-seek-to-end-sleep-related-suffocation-among-infants

Here's why we are raising funds...
This walk to us is all about Phoenix. We would love to invite you to her birthday parties, her school events, her games, graduations, prom, or any extracurricular activities she would have been a part of.  As bereaved parents, we get to miss out on these wonderful things. Therefore, this walk is her event to celebrate her.  We invite you to be a part of our child's event.
Missing Grace has been a gift for Girlie. During a time where the grieving is overwhelming, this support group makes the journey a little more bearable because it provides hope.   
"My children's lives, short as they were, are remembered and celebrated here."
COPING THROUGH GRIEF Speaking Engagement - Click on

Girlie Lincoln's

page
Attend and hear about 3 journeys of loss and coping on Friday, September 6 @ 7 PM.
Our Supporters
Ed Peka

September 2019

$100.00

Jon O'Brien

September 2019

$20.00

Kelly Porter

September 2019

$50.00

Sarah Buckmaster

September 2019

$50.00

Anonymous

September 2019

Anonymous

September 2019

Bubba & Bandit Aulick

September 2019

Anonymous

Love you, Phoenix

September 2019

Greg Kientop

September 2019

$25.00

Rick Lincoln

September 2019

$50.00
Archway Marketing Services, Inc.

August 2019

$1,000.00

Coping Thru Grief Event

September 2019

$140.00

Ed Peka

September 2019

$100.00

Kelly Porter

September 2019

$50.00

Sarah Buckmaster

September 2019

$50.00

Rick Lincoln

September 2019

$50.00

Paul Hostetler

September 2019

$50.00

Christine Vinje

September 2019

$50.00

scott lorenzen

September 2019

$50.00

Jydy Rygh

My loss of my baby girl Dani was in December

August 2019

$50.00
DB

Delia Binondo

DB

Delyn Binondo

JG

Jesusa Guden

AL

Amy Lincoln

CV

Christine Voss

KB

Kari Brant

KM

Kelly Mills

TB

Theresa Beck

JB

Julie Brown

AB

April Brigham

CL

Cory Lincoln
Treasured Memories...
Phoenix Jade's Tribute Video
0
days
0
hours
0
mins
0
secs
Team Badges
This team hasn't earned any badges yet.
Messages of encouragement, hope and comfort...