Allies for Student Wellness
Wellness in the Forest Hills School District is building capacity to promote and nurture social, emotional, physical, and intellectual well-being for our school community of learners.
Join us for an evening of fun, laughs, drinks, music and more!
Come together with a focus on today's students and their teachers. The future is always uncertain but today's needs are not.
November 19th, 2022
Live Music | Silent & Live Auction | Cocktails and Hors D'oeuvres
Attire: Snappy Casual
Ivy Hills Country Club
7-11pm
$200 per person
$275 per couple
Can't attend but still want to support the students?
Make a donation or participate in the silent auction from the comfort of home. Choose "Auction Only" when registering. 
Bidding will begin November 12 and will close November 19 at 10:30 pm.

You can also purchase a Forest Hills Foundation insulated wine cup for $25.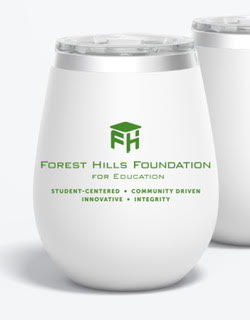 Purchase an insulated wine glass when registering! Pick up at the soiree or we will deliver if you can't attend.
0
days
0
hours
0
mins
0
secs
THANK YOU
A special thank you to our hosts, volunteers, sponsors and donors. This evening would not be possible without your dedication and support.
Hosts
Jay & Colleen Berliner
Amy Broghamer
Stefanie & Kevin Brown
Alexis & Ben Bruning
Kate & PJ Cosgrove
Mary Gaertner
Beth & Tony Giglio
Tiffany & Ross Hallman
Jamie & Adam Holleran
Christina & Aaron Holstein
Forest & Amy Heis
Trina & Gage Hemmelgarn
Bill & Barb Lyon
Lisa & JJ McCoy
Ryan & Sarah McGough
Leslie Rasmussen
Katie Rodebush
Angie & Mike Rose
Brian & Stephanie Sanders
Pam & Alec Tackett
Annie & Dave Warner
MegAnn & Jim Wolff
Volunteers
Nicole Fariello, Co-Chair
Kelly Lee, Co-Chair
Stefanie Brown, Auction Chair
Tiffany Hallman, Auction Committee
Nate Paszczykowski, Auction Committee
MegAnn Wolff, Auction Committee
Donors
Ami Armbruster
Julie and Mark Bissinger
Michael Cash
Mary Beth Conklin
Frances Diaz
John & Melissa Fireovid
Jenny & Charlie Gavin
Thinh Ha & Linda Keck
Megan Kelly
Nancy & Ken Kozak
Kumon Math & Reading Center of Anderson
Andrew Orahoske
Pat Papoi
Melissa Skavlem
Bradley Smith
Randy Smith
Phillip & Tessa Taylor
Christine Timney
Laura Tuzun
Jennifer Zimmerman
Auction will be LIVE November 12!
No Results Found!
Please change the filter settings and try again.