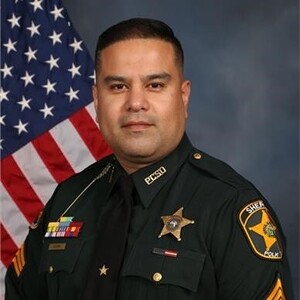 Gus Aguirre
October 21, 2023 5:30pm - 9:00pm
My Personal Fundraising Page
Sgt. Gus Aguirre, Polk County Sheriff's Office
I am truly excited to be nominated by the Polk County Sheriff's Office to participate in the 2023 Mr. Central Florida Fundraiser. As a law enforcement officer I consistently have contact with community members and meet individuals that require assistance with communicating. I learned that some individuals do not have the capability of transportation or funds to pay for services. This is where The Central Florida Speech and Hearing Center offers great services to children and adults to improve their communication skills. The Mr. Central Florida fundraiser is an amazing way for individuals to receive services from the Central Florida Speech and Hearing Center. The goal is to not only provide services at the Speech and Hearing Center, but to expand where these same services can be brought to individuals that are unable to travel to the center.
Let's make this a successful fundraiser to help individuals receive assistance that otherwise would not be attainable. Thank you for your support and I will strive to make a positive impact.
Sergeant Gustavo Aguirre
Polk County Sheriff's Office
Bureau of Criminal Investigations
Robbery Unit
About Central Florida Speech & Hearing Center
The Center is a 501(c)3 nonprofit organization that depends on the generosity of the community to support patients that require subsidized funding. It is through these individuals and organizations that we are able to turn no one away for services.
The majority of the children treated at the Center are underinsured and have nowhere else to turn for services.
230 kids come to the Center each week for speech therapy; 90% of them require subsidized funding.
The Center's diagnosis of children with hearing loss has increased by 300%.
Last year, the Center doubled the number of patients seen for hearing sevices.
Over 96,000 citizens in Polk County have a documented hearing loss.
Hearing loss is associated with high blood pressure, dementia, diabetes and falling.
Mr. Central Florida is the Center's annual fundraiser, providing the funds needed to serve thousands of patients each year!
Help me Meet my Goal!
0
days
0
hours
0
mins
0
secs
My Supporters
Analeigh Clark

I hope he wins! Great guy and he chose a great cause.

Last month

$5.30

Anonymous

Last month

Mary Dreano

Last month

$20.00

David Wallace

Last month

$100.00

Anonymous

Last month

Javaughn Massey

Last month

$100.00

Haley Clanton

Last month

$60.00

Jeff + Alysia O'Dell

Last month

$106.00

Sam Bunch

Last month

$60.00

Elvia Estrada

Last month

$50.00

Bobby Kirkpatrick

Last month

$25.00

Vince Alfaro

Last month

$10.00

Julie Anna Hernandez

Mr. Central Florida : Speech and Hearing Center

Last month

$7.50

Anonymous

Last month

Bar G Enterprises

October 2023

$500.00

Scott James

October 2023

$600.00

Nitrofill

October 2023

$1,000.00

Don Hermelbracht

October 2023

$350.00

Anonymous

October 2023

$2,370.00

Tiffany Taylor

October 2023

$100.00

Danny Peters

October 2023

$350.00

Frank Trevino

October 2023

$50.00

Brooke Winslow

October 2023

$700.00

Anonymous

August 2023

Gustavo Aguirre

August 2023

$60.00
Beef O' Bradys

September 2023

$5,000.00

Camp Margaritaville Auburndale

September 2023

$3,117.00

Anonymous

October 2023

$2,370.00

Nitrofill

October 2023

$1,000.00

Brooke Winslow

October 2023

$700.00

Aguirre Family

September 2023

$700.00

Don Bosko

September 2023

$700.00

Scott James

October 2023

$600.00

Bar G Enterprises

October 2023

$500.00

Don Hermelbracht

October 2023

$350.00

Danny Peters

October 2023

$350.00

Jeff + Alysia O'Dell

Last month

$106.00

Don Bosko

Good luck

September 2023

$106.00

Noemi Alfaro

September 2023

$106.00

David Wallace

Last month

$100.00

Javaughn Massey

Last month

$100.00

Tiffany Taylor

October 2023

$100.00

Cpt. Dina Russell

September 2023

$100.00

Stephen J. Nelson, M.D., P.A.

September 2023

$100.00

Anonymous

Last month

Haley Clanton

Last month

$60.00

Sam Bunch

Last month

$60.00

Anonymous

August 2023

Gustavo Aguirre

August 2023

$60.00

Alfonso Aguirre

Extremely proud of you! You've always been a great role model not just to our family, but to the community. Anyone who know you would say the same, best of luck to you cuz!

September 2023

$53.00