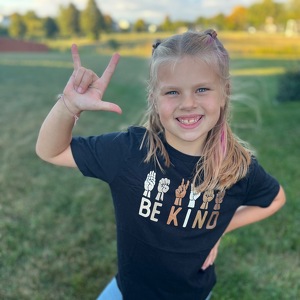 Team Kenzee
Help Kenzee in raising funds for hearing loss awareness!
This June Kenzee will be participating in the D-Feet Hearing Loss Walk. This annual fundraiser hosts a walk that generates funds for research, education and the promotion of hearing health. 
Please help support Kenzee by signing up to walk and/or make a donation. 
Nick Mackenthun

$35.00

Nick Mackenthun

$35.00

Ryan Bradt

$35.00

April Spero

$35.00

Joseph Spero

$35.00

Marissa Michael

$35.00

Patty Bradt

$35.00

Dale Bradt

$35.00

Pat Sayre

$35.00

Jeff Sayre

$35.00

Watson Bradt

Oaklee Bradt

Jordan Michael

Walker Michael

Tanner Mackenthun
Our Supporters
Stina Thelen

6 days ago

$35.00

Jason & Doni Johnson

2 weeks ago

$50.00

Lemonade Stand

2 weeks ago

$120.00

Nicholle DeClercq

2 weeks ago

$30.00

Sam Pawelk

3 weeks ago

$25.00
Lemonade Stand

2 weeks ago

$120.00

Dan Zylla

March 2023

$100.00

Gail + Gary Beck

Last month

$60.00

Jason & Doni Johnson

2 weeks ago

$50.00

gary pelcl

4 weeks ago

$50.00