The Virtual 5K for JA is a great way to be active and contribute to a great cause!
Virtual 5K's can be done anywhere: You can complete the 5K anywhere, at home on the treadmill, at a local trail, or walking the dog around the neighborhood! 
Not a running race: You can walk the 5K, swim the 5K, cycle it, treadmill it etc., whatever your preferred physical activity may be! 
Run or walk at any date or time and spread it out over a few days or weeks: You can split it up, for example, walking 1K a day. Strive towards your distance goal and fundraising goals together! Just complete the total 5km distance and share with your network that you are exercising for a good cause.
Show off your JA pride once you hit the fundraising mark of $100, with this Virtual 5K for JA T-Shirt.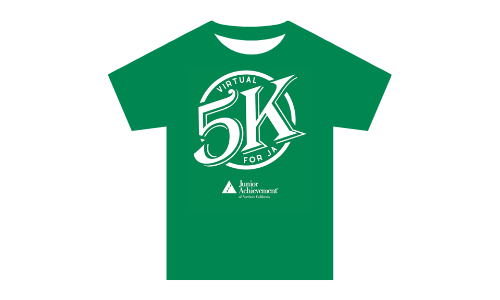 Wear it during your virtual run or out and about to show that you support JA NorCal and our mission to prepare and inspire youth.
Strive for first place!
Our Top Fundraiser will win a voucher for a tropical vacation in Antigua! Enjoy 7 nights of luxury Waterview villa accommodations at the Hammock Cove Resort and Spa.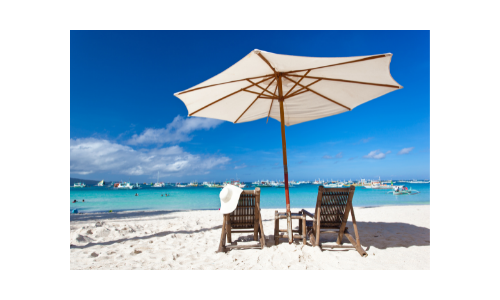 Join a Race Team!
Work together to be the Top Fundraising Race Team and get invited to celebrate together at a dinner hosted by JA NorCal.
Thank you for your continued support of Junior Achievement and our mission: to inspire and prepare young people to succeed in the global economy.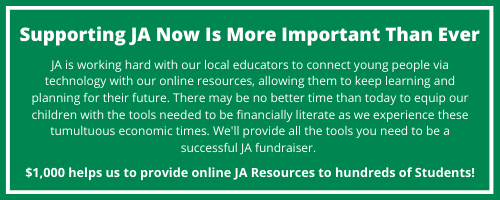 Donations in the form of cash and a check can still be mailed to our office: Junior Achievement of Northern California, 3003 Oak Road, Suite 130, Walnut Creek, CA 94597. We thank you in advance for your patience, understanding & support of JA of Northern California kids.
Fundraising Impact:
$30 provides JA programming for one student
$1,000 provides JA programming for one class
$5,000 provides JA programming for an entire grade
$30,000 provides JA programming for an entire school
Every dollar raised goes toward the JA NorCal mission of preparing and inspire today's youth for the workforce of tomorrow. Join the race and know that your impact is helping bring needed JA programs to students throughout Northern and Central California.
Sponsors
There are no sponsors for this event.