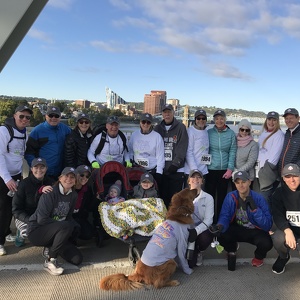 Why We Walk Ahead For A Brain Tumor Cure
Join us as we Walk Ahead for a Brain Tumor Cure on October 17!
This is always such a special event that I truly love sharing with family and friends.  It gives an opportunity to MAKE A DIFFERENCE!  The journey toward a cure for brain tumors is so important and can impact so many lives.
I continue to feel blessed to be a brain tumor survivor - something I am thankful for each and every day.  While I oftentimes reflect on my journey (one shared with so many of you - thank you!), I strive to focus on lifting everything good that came from that experience.
I hope you will join me in this year's opportunity to contribute to finding a cure for brain tumors by joining in this special event!  Your thoughts and prayers for those who are fighting for survival and those that are leading the cure efforts are also appreciated.
Wirh love,
Tracey
CR

Chrissy Riepenhoff

$45.00

PR

Patrick Riepenhoff

$40.00

NR

Nicole Riepenhoff

$40.00

WR

Will Riepenhoff

$15.00

CR

Cammi Riepenhoff

$15.00

LR

Lucy Riepenhoff

JR

James Riepenhoff

CR

Callie Riepenhoff
Our Supporters
Bob Riepenhoff

October 2021

$100.00

Dave Scharfenberger

October 2021

$46.80

Amy McDonald

October 2021

Benjamin Zelinskas

October 2021

Kathie Hickey

October 2021

$104.00
Kathie Hickey

October 2021

$104.00

Diane Rogers

October 2021

$104.00

Matt Ackermann

August 2021

$104.00

David George

August 2021

$104.00

Bob Riepenhoff

October 2021

$100.00
0
days
0
hours
0
mins
0
secs