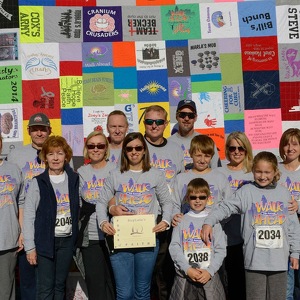 Why We Walk Ahead For A Brain Tumor Cure
Welcome to Stephanie's Power of Faith Page!
Twenty years ago I found out I had a brain tumor.  It had most likely been growing since I was younger.  I had my first seizure at age 2.  We still aren't sure if the seizures are related to the tumor; but if so, I had the tumor for a long time.  On September 14, 2001, I chose to have it removed to see if further treatment would be needed.  Dr. Tew was wonderful and believed he removed the entire tumor at that time.  God blessed me with one of the best types of tumors it could be.  My type of tumor is a Grade II Oligodenroglioma.  What a mouthful right?  I did not have to do any further treatment except yearly MRI's to monitor for re-growth.  So, I got to go in every year and pray for the best. 
However, the likelihood this type of tumor would re-grow was, and still is, high.  Time will tell.  Through all of this God has been at my side.  I know there is a greater purpose for me in this and I pray for Him to guide and use me every day.  Many people say that they don't know what they would do in this situation.  I had a minor medical procedure in spring of 2001.  I literally said that "I don't know what I would do if I ever had to have a major operation like brain surgery".  I am not kidding!  Exactly what I said!   I remember saying it like it was yesterday.  Four months later, I was in a hospital bed having a brain tumor removed.  I remember thinking, "God you sure do have a sense for humor".  Well, I found out what I would do in that situation.  I made it through what I thought I wouldn't.  I am twice as strong now.  I am so grateful that I have God to teach me and show me that I am stronger when I give it to Him and trust He's got this. 
Every year I was told there was no change until I had a seizure in 2014.  Then, I was monitored more often.  Each year since then, there have been "subtle changes".  In January 2019, the tumor board at Mayfield Clinic met to review my case.  At that time, they suggested a second surgery.  Of course, I was like get me a second opinion now!  So I did. The team at OSU met and said the same thing.  I went to a neuro-oncologist and he agreed too, and so did the second one!  Then I was like, WELL DARN! 
The rationale to have another surgery ASAP, despite the fact that I am not having any real signs or symptoms, is that the more cells that are present, the higher the risk of the tumor changing and becoming more aggressive than it is now.  We have been told by the AWESOME team at Mayfield Clinic, led Dr. Vincent DiNapoli, that he was able to remove the entire tumor!!  Genenetic typing has been done to determine if further medical treatment will be necessary.  We got the most amazing news on August 27, 2019.  I had my appointment with one of the best neuro-oncologists in the world (in my opinion), Dr. Richard Curry.  He informed us that, at that time, no further medical treatment (meaning chemo or radiation) will be necessary!!  So, I was like, Yippee!!  
However, God has continuing plans for me and this Oligodendroglioma as it is back again.  We had a difficult couple of months deciding between chemotherapy and radiation, or an experimental "targeted chemotherapy" research medication.  FinalIy I was led to the decision to go to OSU to start on this trial in November 2020.  I am going up to Columbus every month now for labwork and with an added MRI bonus every 3 months.  All the staff up there are amazing and I am so grateful for this treatment option.  I am still having some trouble on my right side, but I am able to do everything I could do before, I just have to focus more now.  I am working through it because I know God as a plan.  I have been shown more love and support than I ever thought possible as I have so many "angels" that have helped our family and have been prayer warriors for me.
Six years ago, I was at a follow up appointment for an MRI and found out about Walk Ahead for a Brain Tumor Cure.  In 2016 and 2017, I had a team to walk with me to help raise funds for a cure for me and so many others with more aggressive tumors.  In 2019, 2020 and 2021 I am walking for them and for a hope that a cure can be found for me too.
For this reason, Walk Ahead the past 3 years has a little more of an impact for me because I am receiving treatment now. I am participating in a research study at The Ohio State.  I am taking the oral chemotherapy that should help stunt the growth of my brain tumor.  They are hoping to develop a better/more effective way to treat my type of tumor through this "targeted chemotherapy" I mentioned above.  
Please continue to pray for me and our family as continue this jounrney.  This is the reason I walk and why and I am hoping you may be able to join me this year as we support the UC Brain Tumor Center Walk Ahead 2021!!
Thank you so much for visiting and for your love, support and prayers!
Love you all,
Stephanie Oskey
We don't know how Strong we are until being strong is the only Choice we have.
Now all glory to God, who is able, through His mighty power at work within us, to accomplish infinitely more than we might ask or think.  Ephesians 3:20
KH

Kelly Henson

$45.00

HH

Hosanna Henson

$45.00

BO

Brian Oskey

$45.00

JO

Jenny Oskey

$45.00

NG

Natalie Griner

$40.00

ML

Mike LaGue

$40.00

GR

Gloria Rudolph

$40.00

BO

Brent Oskey

$40.00

DO

Dawson Oskey

$40.00

JS

J. Susie Cavo

$40.00

CB

Christine Besaw-McGavren

$40.00

CB

Courtney Besaw

$40.00

BB

Bryan Besaw

$40.00

PL

Pam LaGue

$40.00

CL

Charlie LaGue

$10.00

DO

Dylan Oskey

$10.00
Our Supporters
Anonymous

October 2021

Penny Carpenter

October 2021

$25.00

Brian Oskey

October 2021

$60.00

Anonymous

September 2021
Brian Oskey

October 2021

$60.00

Penny Carpenter

October 2021

$25.00
0
days
0
hours
0
mins
0
secs
Team Photo - Add Photo to Share on Your Page
Team Badges
This team hasn't earned any badges yet.