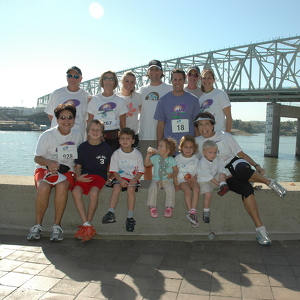 Why We Walk Ahead For A Brain Tumor Cure
Meningioma.  That one word changed my life.  Forever.
Hard to imagine that it has been almost 12 years since I made the transformation from patient to survivor in December 2009.  My story was documented by UC Health at the link below...
http://uchealth.com/patient-stories/brians-story-meningioma/?ref=19947&site=88
What is a meningioma?  Usually a noncancerous tumor that arises from the membranes surrounding the brain and spinal cord.  My meningioma, yes, it was mine, was surrounding the membranes just above my left ear.  It is not clear what causes a meningioma or how long the tumor was in my brain.  These cases are rare, less than 200,000 US cases per year rare.  Symptoms may include change in vision, headaches, hearing loss and seizures.  My symptom was headaches.  My loss was hearing.  Yes, I lost my hearing.  I admit... I am deaf in my left ear.  The impairment is called Single Sided Deafness (SSD).  
Yes, I may not hear you talk.  Yes, I may flip my body position to understand what you are saying.  Yes, I may get lost in space because I cannot separate background noise from the sounds I want to hear.  And yes, I consider myself lucky.  My meningioma changed my life for the better.  Recently, I participated in the UC Health - Pulse of the City campaign. Check out my video...
https://uchealth.com/pulse/2018/08/20/taking-control-and-fighting-back/
Hope. We all have hopes that at times seem trivial...but then there are hopes that change your perspective on life.  I hope that someday, somehow, some way...we find a cure for brain tumors.  
Since March of 2010, I have been involved with the UC Brain Tumor Center's Community Advisory Board.  Our biggest awareness and fundraising event is the 12th annual Walk Ahead event on Sunday, October 17th, 2021.  Yes, this is a money ask.  And yes, I want to personally invite you to walk with my family and me on this special morning.  We will laugh, smile and shed a few tears.  We welcome you on this journey. If you cannot walk that morning, please consider a donation.  We will find a cure.
Our event goal is simple. 3,000 participants.  $300,000 donations.  Funds raised will help provide help, hope and local research for those affected by brain tumors.
Come join our hope.
Brian (Survivor...December '09)
GM

Gavin Meyer

$45.00

AH

Andrea Hurley

$40.00

BW

Britty Wiles

$40.00

WW

Will Wiles

$40.00

JF

Jeff Fosco

$40.00

RM

Reggie McElhaney

$40.00

SW

Sophie Wiles

$40.00

MW

Matthew Wiles

$40.00

TH

Taylor Hicks

$40.00

BP

Bryan Peskin

$40.00

CS

Carolyn Springsteen

$40.00

MM

Margot McDonald

$40.00

LH

Lauren Hartings

$40.00

AH

Ally Heck

$40.00

DH

Dennis Hurley

$40.00

CK

Carlee Korb

$40.00

KH

Kyle Hartings

$40.00

MG

Michele Guttman

$40.00

JG

Josh Guttman

$40.00

TA

Taj Anwar

$10.00

EH

Ellery Hurley

$10.00

RG

Robbie Guttman

$10.00

KG

Katie Guttman

$10.00

JG

Johnnie Guttman

$10.00

RM

Rowan Meyer

HH

Hudson Hartings

LH

Lincoln Hartings
Our Supporters
Anonymous

October 2021

Lilian Aguilar

September 2021

$20.80

Andrea Hurley

September 2021

$20.00

Taj Anwar

September 2021

$10.00

Ellery Hurley

September 2021

$10.00
Benjamin Hollinger

August 2021

$52.00

Amanda Legge

September 2021

$50.00

Lilian Aguilar

September 2021

$20.80

Andrea Hurley

September 2021

$20.00

Vijayalakshmi(Viju) Rao

September 2021

$20.00
0
days
0
hours
0
mins
0
secs
Team Badges
Team : New Fundraising Record

Awarded when a Team raises more funds than during their last event
View All Event Badges