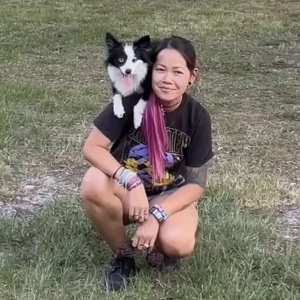 Vely Pontoni
June 5, 2021 8:00am - 12:00pm
Wilson & Astrid Walks For The Animals
6/2. 11:15PM. Update. I'm completely speechless that we've raised almost $700 in one day! I can't thank my Instagram community enough for pulling together for this organization. Right now, we are shy $14.20 of our $1k goal and there's still 2 more days!
So I didn't notice there was a prize opportunity where if you raise $1,200 your dog could be the face of next year's Walk For The Animals! This would be a great opportunity for Wilson to spread his love and happiness throughout our community. I've updated the goal to $1200 to shoot for this prize and with 2 days left, I'm certain we can raise $215 more! xoxo
-------------------------------------------
Hi Friends! We love being part of the pet community and advocating for animals that don't have a voice. What better way than to help our local homeless shelters.
Help us reach our goal of $1000 for SPCA's Walk For The Animals. 100% of the proceeds go toward the care of dogs and cats at the shelter. If you are able to help contribute, we're truly appreciative of your kindness and support!
The event will take place this Sat, June 5th from 9a-noon at Lake Mirror. It's free, so come hang out and enjoy some food, drinks, music, games and of course DOGS!! See you there!
0
days
0
hours
0
mins
0
secs
My Supporters
Anonymous

June 2021

Anonymous

June 2021

Tara Olinger

June 2021

$10.00

Peggy Bailey

Wilson & Astrid StellaRose & I want to thank you for all you do for the dogos!

June 2021

Phyllis Moore

June 2021

$25.00

Lydia MacCarthy

June 2021

$20.00

Chanhsouk Sinhchaleuntham

Good luck you guys! Wishing you all the best. ❤

June 2021

$20.00

Anonymous

From the @glamchisters

June 2021

$30.00

John Postiglione

To our cousin dogs, Astrid and Wilson And Aunt Vely, we love you all! Holly, Chloe and Dallas

June 2021

$100.00

Theresa Rathell

I used to participate in the one where you dressed up your animals, lots of fun! Your dogs are

June 2021

$25.00
John Postiglione

To our cousin dogs, Astrid and Wilson And Aunt Vely, we love you all! Holly, Chloe and Dallas

June 2021

$100.00

Lydia MacCarthy

Love Falkor and Lydia ❤️

June 2021

$100.00

Tina Worrall

June 2021

$100.00

Mountain Shiba

Love, Rukia, Saki and Luna

June 2021

$50.00

Mountain Shiba

Good luck Wilson and Astrid from your friends at Mountain Shiba!

June 2021

$50.00

OnlyDans imports

June 2021

$50.00

Vely Pontoni

May 2021

$50.00

Matthew Damato

Love, Mango

June 2021

$45.80

Lauren Peterson

This sounds like a pawesome cause! We hope you reach your goal! Love, Lauren & @badboibuddyp

May 2021

$40.00

Anonymous

From the @glamchisters

June 2021

$30.00